The ensuing peace in the country has brought in a period of prosperity to the Colombo Port in 2010 and the port has been able to achieve a growth of 26% which has been one of the highest in the region by handling 4.15 million TEUs.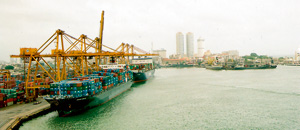 File photo shows the Colombo Port
The present capacity of the port is 4.5 million TEUs and this is expected to increase to 4.8 million units in 2011, said Sri Lanka Ports Authority Chairman, Dr. Priyath B. Wickrama speaking at the 10th P.B. Karandawela Memorial Lecture organized by the Chartered institute of Logistics and Transportation, in Colombo last week.
He said though they are aiming to achieve projections set at 4.8 million TEUs by the end of 2011 the present capacity is insufficient to achieve this goal. According to present projections they hope to achieve 6.9 million TEUs by the year 2017. However this could be achieved by 2014 if necessary expansion plans are completed. This would require a second terminal to be constructed making it possible to handle 10 million TEUs by the year 2020. "The development of the Indian ports is beneficial to Sri Lanka as we could play the role of a supportive port," he said.
Dr Wickrama said, "As a part of the overall expansion a modern port city is to be constructed at an estimated cost of $450 million." This will also function as a commercial centre, with the project commencing in March this year. Further an ultra modern cargo village will be constructed at Peliyagoda which will be advantages to both the transport and logistics industries.