SLASSCOM, the IT industry body which plays a catalyst role with aggressive plans to capitalize the opportunities for Sri Lanka in 2011, has elected its third Board and General Council consisting of key industry leaders and decision makers to drive this year's vision.
The group said the IT and BPO industry is projected to grow by 26% this year while export earnings are estimated at US$ 390 million for 2010. "Mass employment generation with more foreign direct income is being targeted by the national IT/ BPO chamber.
Sri Lanka plans on building a niche focus on a few core areas in the IT and BPO industries globally to differentiate the countries offerings with other outsourcing destinations and with a vision to make the IT/ BPO industry the number one export earner for the country," the group said in a statement.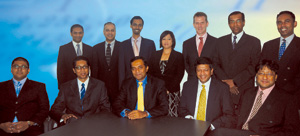 Seated (from left) – Jehan Perimpanayagam- Director and Treasurer (CEO, Info Mate (Pvt) Ltd), Madu Ratnayake - Director and Vice President (GM, Virtusa), Dinesh Saparamadu – Chairman (CEO, hSehid), Mano Sekaram - Director & General Secretary (CEO, Eurocenter) and Sujiva Dewaraja - Director and Vice President (EVP/Head of IT Sector, John Keels Holdings). Standing (from left) - Nalina Wijesundara - Director(Director & GM,eCollege Lanka (Pvt) Ltd), Ashique M. Ali – Director (CEO, Talliance), Sanath Fernando - Director (CEO, Ridgecrest Asia (Pvt) Ltd), Sandra De Zoysa –Director (Group Chief Customer Officer, Dialog Telekom PLC), Mark Webster- Director (Centre Manager, HSBC Technology and Services - Service Delivery), Jayantha De Silva – Director (VP South Asia and Managing Director Sri Lanka, IFS) and Jit Seneviratne – Director (Director, Millennium Information Technologies Limited)