Agenda 2011, twines around two strings to a bow to weather poison arrows darted from a westerly quarter- (i) brisk attendance to Minority Grievances (ii) make progress on Good Governance.
Legitimate Tamil Grievances, is a matter for identification by the Lessons Learnt & Reconciliation Commission after hearing representations. It's time the Sinhala Commission sitting under Raja Wanasundera (eminent jurist as chairman) look futuristic, forget the past tense and have the touch of seeing hands feeling for a bridge not too far, to launch operation harmony with the issuance of its report.
Goodwill is never better demonstrated than when originating from the Sinhala homeland-better still from trusted honest Sinhala nationalists like Wanasundera, Amarasekera, Gunasekara. It may have the required response if the minorities have an enlightened leadership to respond. Both sometimes don't. Think positively national for the sake of the coming generation.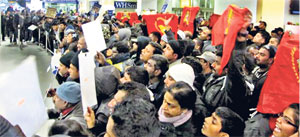 File photo: The Tamil diaspora in active protest in the West
Attending to grievances is not about federalism, the giveaway to Elam or tinkering road thirteen. It's about people, not politicians. Empowering people at the root is the safety valve against corruption and waste.
Smaller the unit, useful it serves; being closer to the public to monitor. Security must not be curtailed until people long under terrorist yoke appreciate democracy and its rightful dissent; vigilance is paramount. Nevermore err to ease on terrorism, a costly mistake made previously.
Human rights and democracy adopted in the western lexicon for crafty objectives (deceitfully and deceptively practised on double standards) yet an enlightened virtue in its unabridged pristine form, enriches a country's image in times of peace, and serves a blow to those preaching good governance from dented pulpits. Its origins relate back to eastern philosophy shown in the Ashokan edicts; surreptitiously the west passes it off as designed by them. It shows us better, to take on board, so what?
The 18th amendment lobs the ball firmly into the Presidents Court, to uplift the Human Rights Commission, Bribery and Corruption Commission, Election Commission among others truly free from state clutches. It's the Commissioners themselves by their conduct that often make or mar a Commission. It's incumbent on the President to nominate good and brave names to resurrect commissions that have lost face. Otherwise all is lost.
Possessed of a reasonably vigilant private media that monitors public interest and a judiciary and attorney general's department ahead of the public services it's not a mission impossible. If the will is strong and guidance from the LLR Commission implemented, sounds of the West can be reduced to a murmur, since they never close their traps. Commissioners must guard from not becoming sycophants of the state.
First show results and spread results to the larger international community that extended support at times of stress; neither this or that, nor anything else will satisfy the inconvincible UK, US and EU, Scandinavians and Canadians - hungry for the diaspora votes and funds. Instead, let's show they stand stripped of fake fig leaves searching for the expatriate Tamil vote clouded by the domestic greed using us as a sparring partner to practise strength at voting time in their legislatures. Make it known to the levellers of war crimes, their foreign policy guides on subject Sri Lanka, are the Tamil diaspora. Just as the Jewish lobby fashions the Palestinian policy, for ballots and bank accounts talk.
Expose the West at its tender joints-but that alone is not sufficient, we have to look good on two counts. Put cotton wool in the eardrums to the western cacophony after we get our act right and look to the representative international community at large, not the vocal miniscule.
Diaspora leadership needs to survive in its position of power to hold a grip on the politicians of the West after Prabha is no more. To exhibit power, in an alien environment, the shepherds need exhibit a giant flock of sheep that follows on command, to be counted. Lobby is their hobby. After reaching a high water mark on a head count they can live happily thereafter with the major political parties in the West. In politics, mob gets a hearing better than an embassy of a faraway country.
Diaspora is part of a foreign scene and let it be; the Tamils here should not be treated as a part of it. The way they voted in support of the national parties at the general elections deserve it, yet many are economically dependent on the diaspora that is able to dictate. The rise and fall of that valued local vote matters. The diaspora will not disappear but the improvement of the conditions of their folk at home, at least will convince a few abroad.
Irrespective of any improvements made here, the psyche of the diaspora will remain the same and the foreign governments that woo their votes will travel a distance to keep them happy, at our expense. Let them be snug in the nations offering bed and breakfast. It's an alien vote standing on alien soil, like the Tibeteans without a Dalai Lama. Expatriate Tibetans still rally but as they become more naturalized with the social conditions around, the exercise becomes academic.
Click East not West, search India/China; enter on memory Anglo-America as history. Foreign policy objectives must be to build an Asian Eminence on platform, China and India. To an island nation in the Indian Ocean, with a sea around carrying 60% of all petroleum products on which 50% of all international shipping routes are located, making it the sea of seas, ripe to take an assignment as friendly coastguards for India and China and keep the West in the distant horizon. Neither will want the seventh fleet hovering in their territorial waters. West knows its scope if India frowns on her conduct and we should be the friendly neighbour safeguarding her southern flank from terrorist onslaughts.
The UNP, becomes the friendly guard of the government, by altering its middle name- changing it from "national" to "international" (UNP to UIP) by hysterically peddling the same issues making a similar noise that accusing white western nations scream loud; earns a reputation of being truly anti-national and ensuring permanency in the opposition.
The agenda is to avert foreign mercenaries and not a tool kit for travails on the domestic front. That is too heavy for a small capsule.
The writer is a senior lawyer