At just 17, Auchithya Weerasinghe has already been a poet for over a decade. However, her first collection 'Quicksilver' features poems mainly drawn from recent years. Her preoccupations find their way into the collection – events that have affected her friends and her community, her moods, her love of tennis and cricket and even her respect for Queen Bees are paid tribute to in verse. One poem, 'The Dove of Peace' provides the inspiration for the cover of this slender volume. The dove in flight is placed within a border of words drawn from the poetry itself, says Auchithya, explaining that her other great love is painting.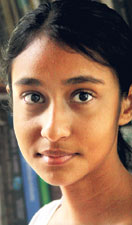 Some of her canvases are hung on the wall of her living room. Sitting under them, the slender teenager explains that she has notebooks filled with poetry. She relied on the advice of her mother, a journalist of 15 years, to help her select the poems that make up the collection. She's very happy with the book and says that she considers herself primarily a poet. Finding the time to juggle her extracurricular activities and studies with her writing hasn't been too difficult, she explains, adding that writing poetry offers a catharsis of sorts for her.
Her style owes much to her favourite poets – from Byron to Shelley, Wordsworth to Rosseti, she's a fan of the classics. "I find them inspiring," she says, revealing that simply reading their poetry encourages her to write her own.
Now that her collection of poetry has been published, Auchithya (her name means 'appropriate') says she's ready to try her hand at prose. "It's going to be a tour diary of a 19 year old cricketer," says the young author. Her protagonist has already visited New Zealand, the Netherlands, Germany and Austria and Auchithya hopes to bring him to Sri Lanka soon. She describes herself as a rabid fan of the sport –"I don't like cricket, I love it." Of her decision to experiment with prose, she says her heart still lies with poetry. For her it's all about the "varied vocabulary" and the emotional impact the latter affords. She expects to have her novel published in 2012 – 2013.