With Christmas around the corner, are you lustily singing your favourite carols? Pause for a moment- ever thought of the stories behind them? Some have been written to be sung in Church, some as a result of profound sorrow and some as mere entertainment for children.
Yet all these carols that have stood the test of time had been created with one motive- to celebrate the birth of the Messiah- the Prince of Peace.
"Music is the language of God. Carols should be about the story of Christ and in line with the spirit of Christmas," says Satyendra Chellappah, founder of well-known choral group the Cantata Singers, adding that the tradition of singing carols in Sri Lanka though is an influence of colonization.
Thinking back, he recollects that though his great grandparents were devout Christians, they never sang carols nor attended carol services. In the Cantata Singers' carol services, he says that he always concentrated on arranging the programme in such a way that it told the story of Christmas and followed a particular order.
As people hear the same carols everywhere, Mr. Chellappah endeavoured to move away from the traditional carols. He highly appreciates the many modern Christmas carols of our day.
While some songs are translations of carols originally written in English, there are carols written in Sinhala and Tamil by Sri Lankan song writers too. The Sinhala and Tamil carol services often use oriental instruments, says Dr. Lalith Perera, Director of Music for St. Michael's and All Angels church.
He added that while they usually stick to the traditional carols at St Michael's, the readings are not always taken from the Bible. Excerpts from books such as "Book of Witnesses" by David Kossoff and poems by poets such as T.S Eliot and Longfellow are also used as readings.
Dr. Perera emphasized the fact that Advent too should be observed correctly and that Christmas actually commences on December 24 and goes on till Epiphany. However now there is a trend to start celebrating Christmas on the first of December and then forget about it by December 26. St. Michael's held an Epiphany Carol Service for the first time last year and is hoping to hold one this year too. It is the only Epiphany carol service held in Sri Lanka.
Her personal favourite is 'O Holy Night', says Mary Anne David, Choral Director of the Merry-An Singers, sharing with us how she tried this carol in a different arrangement with three sopranos and a chorus, when the choir performed at Christ College Bangalore.
She usually teaches carols such as 'Away in a manger' , 'Once in Royal David's City' and 'Silent Night' to young children, she reminisces, while older people prefer carols such as 'Hark the Herald', 'The First Noel' and 'O Come all ye faithful', she says, adding that she loves the feeling of Christmas, and feels that the radio stations should play Christmas carols more often during the festive season.
Here are a few of the best loved carols and the stories behind them:
Jingle Bells
This much loved carol has the honour of being the first song to be broadcast from space! On December 16, 1965, Gemini astronauts Tom Stafford and Wally Schirra decided to play a prank.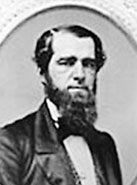 James Lord Pierpont
They sent a message to Mission control saying "…I see a command module and eight small modules…pilot of the command module is wearing a red suit…" This was followed by them playing 'Jingle bells' on a harmonica and sleigh bells. Composed by James Lord Pierpont in 1850, it was initially published as 'One horse open sleigh' in 1857.
Pierpont, who was not a famous musician in his time, struggled to earn a living for his family, a victim of business loss due to the San Francisco gold rush. He went from California to Savannah, Georgia, seeking help from his brother who was a minister of a Unitarian Church.
With the help of his brother, Pierpont became a musical director and organist. He wrote this carol for a Sunday school thanksgiving programme in his church.
It was sung again on Christmas day. Since then Jingle Bells has become a Christmas carol. The inspiration for this carol is believed to be the town's popular sleigh races during the 1800s.
Rudolph the red nosed reindeer
Though it tells the story of a young reindeer, which had the opportunity of leading Santa's sleigh on Christmas eve, it was also the story of a 33-year-old man, depressed, in debt and losing his young wife to cancer.
Robert May had always been a weak and delicate child. After completing his education he went on to work at Montgomery Ward, a Chicago mail order firm as a copywriter.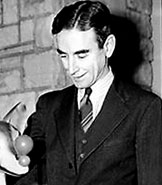 Robert May with Rudolph
Montgomery Ward had always bought colouring books to use as giveaways to attract Christmas shoppers. That year, to save money, Montgomery Ward decided to create their own colouring book. This task was given to Robert May.
The inspiration behind the story was a question by his little four-year-old daughter Barbara who one December night, asked her father "Why isn't my Mommy like everybody else's mommy?" As Robert looked at his wife Evelyn suffering from cancer and bedridden for two years, he prayed for a suitable answer.
Then he started telling his daughter a story which would bring out the moral that even though some creatures of God are different from others, they often have the ability to make others happy. Robert also thought of his own childhood when he had been laughed at by his friends for being skinny.
The story he told was of Rudolph (and his extraordinary nose) who had helped Santa deliver gifts one foggy Christmas Eve. Barbara enjoyed the story. As Robert was putting the finishing touches to the story, his wife died.
Robert used the story for the colouring book. It was a great success and Montgomery Ward distributed six million copies in the years 1939-1946 in spite of the paper shortage due to the war.
Robert's brother-in-law Johnny Marks wrote the lyrics and the carol was recorded in 1949. Two million copies were sold by the end of the first year.
O Holy Night
A French soldier jumped out of the trenches and launched into a solo of "Cantique de Noel" – the French version of O Holy Night. It was a dismal wintry Christmas Eve in 1871, in the battlefield as severe fighting took place between France and Germany in the middle of the Franco-Prussian war.
After the seemingly crazy soldier had completed three verses of the carol, he was joined by a German infantryman, who jumping out of his hiding place, sang Martin Luther's "Von Himmel hoch da komm ichher"(From heaven above to earth I come). Fighting stopped temporarily for 24 hours for Christmas.
This moving carol was written by Placide Cappeau, a wine merchant and poet, at the request of his parish priest. Placide wrote the words on a stagecoach to Paris using the gospel of Luke as a guide. To set the words to music, he sought the help of Adolphe Adam, who was of Jewish ancestry and thus did not celebrate Christmas. However he immediately set to work and the carol was performed three weeks later at a midnight mass.
John Sullivan Dwight, a Unitarian minister and music critic, who translated this to English, introduced the carol to America.
This carol also has the honour of being the first piece of music to be broadcast on radio. On Christmas Eve of 1906, Reginald Fessenden, a Canadian inventor, broadcast the first AM radio programme, and playing O Holy Night on the violin, sang the last verse.
Silent Night
On Christmas Eve 1914, the British troops were amazed to see the Germans lighting candles and lanterns and raising them on bayonets and poles. Some even held Christmas trees over their heads. The Germans then started singing "Stille Nacht".
The British troops recognizing the carol pitched in with "Silent Night". Gradually soldiers on both sides laid down their weapons and stepped on to no-man's land. A temporary truce held for Christmas.
This carol that started out as an Austrian priest's endeavour to introduce a new Christmas carol to his parish, has become one of the best loved carols of all time.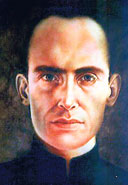 Father Joseph Mohr
One Christmas Eve in 1818, Father Joseph Mohr of a pilgrim church in Moriapfarr, Austria, brought the lyrics of "Stille Nacht" to the talented organist of St. Nicholas church- Franz Xaver Gruber.
The church organ was broken (some believe it was due to mice eating through the bellows!) and Father Joseph wanted Gruber to compose a melody and a guitar accompaniment. The following day being Christmas, the carol was performed for the first time.
It was then forgotten for many years until the organ repairman Carl Mauracher who rebuilt the organ of St. Nicholas chanced on the manuscript in 1825. Carl Mauracher was from the mountains of Tyrol where two families of folk singers- the Rainers and the Strassers lived. They used to travel and perform around Europe.
Mauracher gave them the carol and in 1834 the Strassers performed it for King Frederick William IV of Prussia. The King appreciated the carol so much so that he commanded his cathedral choir to sing it each Christmas.
The English translation was done in 1859 by the second Bishop, Episcopal Diocese of Florida-John Henry Freemen.
Joy to the world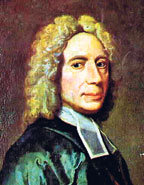 Isaac Watts
Isaac Watts had to give up the priesthood less than two years after entering the ministry due to health problems. That and an unsuccessful love affair led him to undertake a long cherished project.
Watts who had a deep liking for the Psalms since childhood, had taken to writing poems based on the book of Psalms. He merged the Old Testament Psalms with the fulfillment of the prophecies in the New Testament.
'Joy to the world' was part of his 'Psalms of David imitated' which was published in 1719. This carol was inspired by the final half of Psalm 98. Isaac Watts converted the old Jewish song into a song of salvation signifying the birth of the Prince of Peace.
The tune for the carol is attributed to George. F. Handel. Ironically, Watts had never wanted it to be a Christmas carol!
Hallelujah Chorus
This awe-inspiring piece of music was written by the German-born composer- George Frederick Handel who spent most of his life in England. Depressed and deeply in debt by 1741, he was sure he would end up in the debtors' prison. On April 8, 1741 at the age of 56, Handel held his farewell concert and retired from all public activities.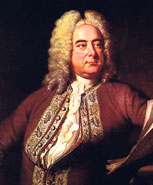 George Frederick Handel
However two events changed his life completely. His wealthy friend Charles Jensen gave him a libretto based on the Bible. Further he was commissioned by a Dublin Charity to compose something for a benefit performance.
Once he began composing, Handel became so absorbed and finished the 260 page manuscript- which was to become the famous 'Messiah'- in 24 days! When his assistant finally decided to go into Handel's work area himself, the composer not having emerged, he was greeted by the sight of Handel in tears. "I have seen the face of God," said the composer.
'Messiah' was first performed for a benefit performance on April 13, 1742 and raised 400 pounds, freeing 142 men from debtors' prison.
When King George II who attended the benefit, heard the Hallelujah Chorus-a part of 'Messiah'- he stood up and following his lead the entire audience rose to their feet. Even now it is customary for the audience to stand up when the Hallelujah Chorus is sung.

Carolling a thing of the past in Sri Lanka
The sight of a jolly group going from door to door singing carols and proclaiming the birth of the Messiah – just like the angels conveyed glad tidings to the shepherds, more than 2,000 years ago, brings good cheer.
The singers are traditionally received with much hospitality and treated with delicious Christmas eats.
Sadly, in Sri Lanka, the tradition of carol singing has faded, due to security concerns of the past years. However, with the restoration of peace in the country, there is hope of the tradition being revived.
Some say that the custom originated in feudal society, as poor citizens went door to door, singing for their supper. It is also thought that as carols were prohibited from being sung in churches, people resorted to singing carols outside! Another belief is that carolling started in the 16th century, when Anglo-Saxon peasants, went wassailing, requesting food and drink as rewards for bringing good tidings through song.
Whatever its roots, carolling is a joyful activity, in line with the spirit of Christmas.