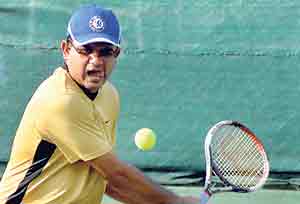 Chithana Jayasekera preparing for a powerful forehand.
Dialog's Chinthana Jayasekera came back after losing the second set to overcome Delmege's Waruna Chandrasiri 6-4, 4-6, 6-2, to progress to the next round of the Division 3 Mercantile Tennis Championships, played at the SLTA courts yesterday.
The match was littered with several unforced errors but Chithana Jayasekera played a very smart game, edging the ball to all corners of the court and forcing his opponent to keep moving in what were very hot conditions.
There were also several other division 2 matches played during the day. In two of them Chaminda Geeganage from HSBC beat Yavan Jayasekera in a walkover and Sherone Mendis beat her HSBC colleague Dinusha Weerasinghe 6-4, 6-4.