Former Zahira, Isipathana, Havelocks SC, CH & FC and National rugby legend Hisham Abdeen was interviewed by the Sunday Times. Abdeen took time off in giving his feedback on Sri Lankan rugby in the last three decades.
Abdeen started by saying that the players in this era do not have the desired passion for the sport. "The game is commercialized and even clubs are spoiling the players by offering huge sums of money which we would never dream of getting in our era. We played our hearts for our clubs and in return we wanted the club to win trophies and in the end represent the country and don the national jersey. Today the national jersey has no pride because of club politics."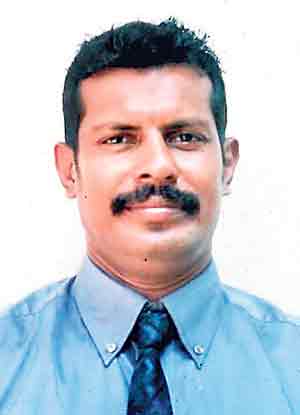 Hisham Abdeen
Continuing Abdeen said: "Players pull out citing so many reasons to keep away from practices. If you take this year we had no less than 7 overseas Sevens tours. In the past we did not have more than 2 overseas tours. In the end we got only 12th position out of 16 teams and playing in front of our home crowd and climate conditions at the recently concluded Carlton Sevens. What is the use of winning the Shield?" queried Abdeen.
Abdeen added that schools rugby is in good shape. "However the boys after representing the country at under 20 level should be looked after to go to the next stage. For example if you take Asia we are at number 3 in under 20 age group and we got promoted to the top division in the Asian 5 Nations Tournament. This means up to a minimum, we are at number 5. What have we done to keep the players together? We have just 4 month's to go. Teams such as Japan, Korea and Hong Kong are training together for this tournament. We will have 4 home games and same number of matches overseas and playing with these teams. Do we stand a chance?" he asked.
"Club politics should be stopped and players moving from one club to another should also be stopped after the season starts". Hisham further said that George Simpkin is the best man for the longer version of the game. He had done wonders in China, Hong Kong and is now looking after the Germany rugby team where they have climbed up in their rankings.
Abdeen ended by criticizing the Sri Lanka Rugby Football Union (SLRFU) and its committee by saying that they can't get the money due to us from International Rugby Board (IRB) for development. Rugby players are all around the country. What has the SLRFU done to develop the game in places like Anuradapura, Pollonnaruwa, Minneriya? Take for example India their rugby is growing a lot faster than ours. We need to do something to get our act together faster to stay on par with other Asian Nations. Abdeen ended by saying that the national selectors should be available at all games. If they cannot they should not take this position.
Abeen played for Zahira (1977 and 1978) leading the side in the last year before crossing over to Isipathana where he played for the next two years. He started his club rugby in 1979 and till 1988 played for Havelocks SC. In 1990 he crossed over to CH & FC and played for another 4 years. In 1995 and 1996 he played for Kurunegala RFC and ended his club rugby career at Petersons SC in 1998.
He led the national sevens outfit to win the Bowl Trophy in 1984. Two years later in 1986 came so close but yet was so far when the outfit led by Hisham lost to Papua New Guinea in the Bowl Final. A year later, again Sri Lanka lost to Hong Kong in the Bowl final. All these three performances were at the Hong Kong Rugby Sevens where Sri Lanka participated for the last 34 years and gained success once and only once.
Hisham led the sevens side in 1988 at the Dubai Rugby Sevens when the lads came up to the Cup Quarter Finals losing to Wales. He also led the national sevens side for the World Cup Sevens 1987 in Sydney.