Started from a far away and unheard of rural village off Anuradhapura, Dee Ge Somapala is well-known as a talented painter, expert photographer, much sought after advertiser and an award winning teledrama maker.
Having many feathers in his cap, Dee Ge's journey is one not only filled with successes, excitements, wonders and triumphs but also troubles, discouragements, and hardship. Hailing from the remote hamlet of Kurundamkulama off Anuradhapura, Dee Ge entered Colombo just after his Ordinary Level Examination, in search of a job and to try his luck at painting and art subjects close to his heart. This journey took Dee Ge not only to Colombo but also to India, Pakistan and many other countries thereafter.
Having come to Colombo to work as a banner designer for a land sale company, just after his Ordinary Level Examination in 1966, Dee Gee became a comic story writer for newspapers, painter, photographer, advertising designer, art director, script writer, actor and finally an award winning teledrama director.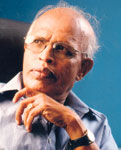 Dee Ge Somapala, man of many roles
Dee Ge won the Best Director of the Year for his teleplay 'Ridee Ittankaraya' together with seven other awards at the recently held Sumathi Tele Award ceremony. Celebrating his 45th year in art and advertising, Dee Ge is to be felicitated on December 14 on his contribution to Sri Lankan arts and advertising. Organised by Sahurdha Sanhida Weemansa Ekamuthuwa, led by award winning teledirector Sudath Rohana this felicitation is also being held to celebrate the birthday of this veteran artiste which falls on December 11. On this day, a book titled 'Dee Ge Harasaraniya' is also to be released.
"We were the first batch who sat for the GCE Ordinary Level examination in the year 1965 from Niwarthakachethiya Maha Vidyalaya, Anuradhapura. My principal was a well-known writer and English teacher, D. P. R. Samaranayake," said Dee Ge reminiscing school days.
"Our outlook to life and art was completely changed by the school arts teacher, Siri Hewa Arachchi. He not only taught us drawing but exposed us to good literature, plays, music and the aesthetic beauty of life," he described.
Having realised my talent in art and drawing, my principal suggested to me that I took up a job in newspaper advertising' Dee Ge said. "My job was to draw banners for a land sales for monthly payment of Rs. 75,". But my life as a boy from a beautiful village was suddenly changed to a busy, congested life in Colombo.
While in the Land Sale company as a young painter, Dee Ge tried to work for a newspaper as a comic art writer. He was introduced to Sriya Ratnakara of 'Dawasa' and Gunadasa Liyanage and he contributed with a handful of story episodes to 'Riviresa'.
Next Dee Ge took over advertising, a self satisfying and lucrative job by joining the J. Walter Thompson advertising agency. However with the change of government in 1970, Dee Gee's dreams were shattered and Walter Thompson and Co. was closed down paying a nominal compensation of Rs 3500 to employees.
Joining the public service and attached to the Fertiliser Corporation, Dee Gee was disheartened by lethargic people and the environment and left for India in 1974 to rejoin advertising.
"I together with few a Sri Lankan artistes was in Madras but we didn't get jobs as we expected. But I got an opportunity to draw the life story of Jesus Christ from a religious organisation called Saint Thom. My job was to draw Jesus' life adapting it to Indian style,".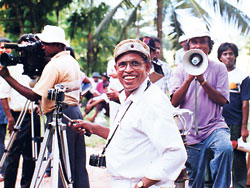 Dee Ge as a director
As life in India was boring and most of his friends had left for Pakistan, Dee Ge also decided to join them in Pakistan. There the Art Managing bosses of Lintas Advertising one of the leading advertising firms in Pakistan who were impressed by his latent talent in drawing offered him a job. Having worked in Pakistan Dee Gee Somapala returned to Sri Lanka in 1980 and got on to a different medium of art, namely photography studying under veteran photographer, Lal Hegoda.
Moving from the still photography to moving pictures, Dee Ge studied cinema under Andrew Jayamanne in 1988 following the OCIC video and cinema course. His first teleplay was 20 minutes long 'Kabalen Lipata' and the second 7-episode teledrama 'Konthraththuwa' (The Contract) in 1990 created a controversy. He directed 'Gehenu Kawuruda' as his third teledrama in 1993 and was silent for nearly 10 years without touching on teledrama. His return to the miniscreen was marked in 2003 with 'Sandawathaka Waruna' followed by a number of others until he made his award winner 'Ridee Ittankaraya'.
"Today the medium of teledramaswhich could have been used as a blessing to create and promote good artistes and directors had become a tragedy. The medium had been commercialised and misused by the businessmen who call themselves artistes," Dee Ge remarked speaking about the pathetic state of the teledrama industry.
"This education system which kills the aesthetic interest of a child should be responsible for the emergence of many social evils. We today experience the tragic repercussions of overlooking the aesthetic subjects in the school," Dee Ge said on a sad note.