"It's too fast, dude. There's not enough breath space for me," complained the vocalist to Vidhu Jayawardene as their band experimented with increasing the tempo of a song. After a few laughs, the band which formed in 2006 over a can of Pringles and some bottles of Coke, decided that BreathSpace was the name for them.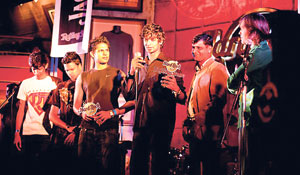 BreathSpace with their award
Four years later, it is quite evident that the name has been lucky for rockers Vidhu Jayawardene, Asitha Jayawardana, Darren Johnson and Sheaam Deen. On November 18, BreathSpace rocked the stage of the Hard Rock Café in Pune, India at the Jack Daniels Annual Rock Awards as Sri Lanka's best band for 2010.
Organized by the Rollingstone Magazine, the event is celebrated as the biggest search for the next big thing in the Indian rock music scene. This year, the organizers decided to extend the search to Sri Lanka; and BreathSpace made it to the awards by way of a competitive online qualifier and had the once in a lifetime opportunity of performing for the awards thanks to the association made by M Entertainment of the Maharajah Group. "The whole experience has been absolutely surreal," says Vidhu.
"When I first heard about our award I honestly thought someone was playing a prank on me. I remember darting back and forth, whilst talking to people from Rollingstone not really paying attention to what was going on around me," he recalls.
The night began with Celebrity host Luke Kenny -VH1s Elusive DJ who runs a Vh1 Special called "Lukes After Hours" welcomed the band onstage with an Energetic introduction to BreathSpace. The Night revolved around two bands "BreathSpace and Sridhar/Thayil" as titled banners "The Award Winners Tour" Filled the Hard Rock Café from Ceiling to floor. "After countless, endless and times sleepless hours of jamming and practicing we were ready to give it our all. But as soon as we got on stage it was all about letting go and the audience made us feel at home so everyone was in their element," says Vidhu.
With plans to make it to the international music charts in the foreseeable future, the members of BreathSpace agree that their success is a result of constantly pushing each other as musicians to continue improving.
Growing up in the same vicinity, spending hours on Playstations and playing rugby on the beach, it seemed only natural that these musicians should form a band given their identical taste in music. "It was a couple of years ago that the current lineup of the band began jamming together," says Vidhu. "Since then we have played together on a regular basis- practicing at Darren's house every other day, and the neighbours have not called the cops on us…yet."
BreathSpace draws inspiration for its music from personal experiences, and believes that its music stems from a great sense of self appreciation. "We are our biggest fans as well as our biggest critics and this; if anything differentiates us from our contemporaries."
Refusing to stick to any particular label in terms of genre, the music of BreathSpace varies from hard rock to progressive rock and even adult contemporary and the band is exceptionally comfortable with performing the occasional challenge of performing different genres of music.
"We feel that the best thing about being a part of the local rock music scene is being part of a community that is increasingly coming into its own," reflects Vidhu. "Most Sri Lankan bands have their own identity and are being more themselves than their idols- and this is a characteristic of the most successful international bands that have made it big. It is also important to know that to overcome the challenges of breaking into the industry, it is not about rebelling against the system but how to get the system to work for you."