It is always dicey, perilous and even dangerous for one director to comment publicly on another's film. Yet, once in a blue moon a film comes along in this Sri Lankan movie desert, which warrants that risk. Bennet Ratnayake's Ira Handa Yata is one such.
Ira Handa Yata is a cinematic gem: dealing with a subject which is sensitive as well as senseless; it is imbued with tension and tenderness; brutal while being blunt; dogged and bold; stunningly beautiful as well as violent; epic in scope, lavish in production values seldom seen in a Sri Lankan film; superb cinematic craftsmanship blends with telling precision in the parts of the narrative to make it enthralling and captivating storytelling, holding the audience spellbound with its daring and magnificence. That's saying a lot.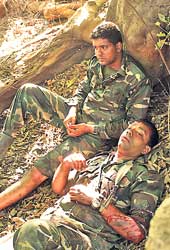 The officer and corporal: A mismatch in casting
Still, that gem is flawed. Many contradictions abound in the story line; superb casting yields to the main role played by an unmilitary looking officer; melodrama yields to sensitive portrayal; continuous beautiful scored music on the track, instead of underscoring the narrative, dominates and intrudes.
Yet, despite its flaws, Ira Handa Yata is like a rare downpour of rain during the drought that is the Sri Lankan cinema. It is a gem of a movie, despite its flaws.
Director Bennet Ratnayake has developed a story line dealing with the now concluded war- always a difficult subject. In the story, an army officer, splendidly played by Saumya Liyanage, and soldier- a corporal, played by Udara Ratnayake, a newcomer- meet during the army retreat after the Killinoichi battle in 2001. Both are injured, the officer, seriously, the corporal in the leg.
The corporal does not want to abandon the officer, as the LTTE cadres seek them out. At the behest of the officer, the corporal leaves, to get to the nearest army camp, with a message for the officer's wife, his conscience weighing heavily on him for his abandonment of the officer. Their lives will be entwined in ways which neither envisages, as the soldier, who is rescued by the army, is promoted, seeks out the army major's family to convey the officer's wishes, while the major is found by the LTTE. An intense drama develops, as both unknown to each journey on to meet their respective fates.
To disclose more would be a spoiler. Nevertheless, the war, its futility, senselessness and brutality are treated with uncompromisingly forthright narrative with finesse and restraint. In this process Ratnayake's cinema is oftentimes brilliant and controlled while evocative of tenderness of the human tragedy which unfolds as the catastrophe of humans caught up in the war develops.
Walking the tight rope with a sense of balance is Ratnayake's achievement. He does not compromise in showing the Tiger brutality as they unleash their venom on helpless prisoners nor of the Army as an officer goes berserk with vengeance and executes two civilians in cold blood.
The first part of the film is outstanding cinema. Stupendous action scenes and literally "a cast of thousands" imbue it with a sense of realism not seen in a Sri Lankan film.
The placement of Saumya as the army major along with newcomer Udara (who incidentally is the director's son) is an uneven clash. Saumya imbues his acting with masterful control, pacing his performance within a wide range of emotions worthy of the superb actor he is. Udara is the weakest link of all: his is a narrow range looking glum and gloomy, quite well fed, for a soldier in battle, promoted, quite unbelievably, from corporal to Captain (!). The contrast with Saumya is too deadly for Udara, who looks a well fed mama's boy than a hardened army officer. The penchant of the director to cast his own- he did this with his daughter in "Sulanga" with dreadful results, is a weakness he must overcome in the future if his work as a director is not to be affected by poor performance and unforgivable casting.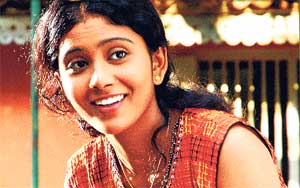 Newcomer Tasha Darshani: A jewel of a performance
Udara's is not the only step back in the film. Plot contradictions spoil the believability; they are substantial enough to intrude on the narrative. Ratnayake makes the character of the major's mother, played by that excellent actress Suwineetha Weerasinghe, one of unrestrained histrionics --sometimes unbelievably over the top to even seem comical.
Udara's deficiency is made up more than amply by a newcomer Tasha Dharshani who plays the army major's wife- a Tamil girl caught up in the turmoil of it all. She gives an exquisite, captivating performance, her inner agony tearing her apart, her burning sorrow, wrought on her very being. A jewel of a performance in a gem of a film.
Ratnayake must be congratulated for another of his new choices: Kalinga Deshapriya as the Director of Cinematography. Reportedly trained in South Korea, and languishing upon his return for want of opportunity, Ratnayake took the risk to give this unknown the opportunity. The result is rewarding and inspiring. Kalinga's cinematography reaches heights of excellence not seen since "Abba". The camera movement is smooth, the focus spot on.
The lighting and texture is controlled throughout with consistency, across hugely varied scenes involving the entire gamut of challenges. He meets the challenges masterfully, with rich dividends for the audience. The cinematography is a feast for the eye as well as contributing mightily to the captivating content created by Ratnayake. Kalinga Perera's sound design complements the other Kalinga's pictures. His DTS 5.1 surround sound mix is outstanding, precise and disciplined, a "silent" contribution to the team effort to create the illusion of reality.
Even with the elements which do not make Ira Handa Yata, a brilliant gem, it is a jewel nonetheless. A rare treat of good cinema sans the "Indian formula"- a draught of fresh air for Sri Lankan film-goers. A masterful attempt to dwell on a difficult subject, venturing into a veritable minefield of controversy with candour and emerging from it by presenting a heartfelt vision for the future of a unified Sri Lanka which belongs to all those who are its citizens.
Few films have dared to be so frank and so balanced and yet be convincing. Ratnayake's wish for his country envelops his film. The superb scene towards the end of a long track shot along a bridge with young schoolboys and girls cycling along in joyous freedom, while the Captain is seen driving to a new future, was brilliant cinema, true trademark Ratnayake.
Bennet Ratnayake deserves praise for his film- for treading into difficult territory; for treating the subject judiciously and with admirable control and tenderness, reflecting his love of the country and her people, for infusing his film with lavish production values, for bringing the ruthlessness of war 'alive' as a reminder of what the country endured for three decades because of mistakes made by our leaders in the past, and above all, as a lesson for the entire country, and a plea to unite as one nation.