Veteran painter S.H. Sarath is a man with a mission. His aim is to assist in building a virtuous society - 'yahapath samajayak' in his words. And of course, he uses his artistic talent for this.
I met him at his gallery at Sarasavi Udyanaya in Nugegoda where he has converted a section of his house to exhibit his paintings. After holding his latest exhibition at the Lionel Wendt for two days he shifted it to his own gallery and is quite happy with the response he is getting. "It may be just one or two persons dropping in for a day. But I know they are genuine lovers of art. They obviously appreciate paintings," he said.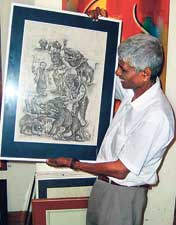 S.H. Sarath: Artist with a mission
In Sarath's experience, it is not easy to get a crowd for an exhibition of paintings today. "The invitees will turn up at the opening. After the opening very few will come to see the exhibition. The identical thing that happens at a funeral house," he says drawing a parallel.
Sarath (his initials S.H. stand for Sella Hannadige - just as his father S. H. Gunapala) is disturbed with the current trend in society. In his analysis, it is a 'duvana samajayak' with people running around all the time.
"They are either running to pay the electricity bill, the telephone bill or the water bill. And they waste hours standing in queues. Then they rush to pick up the child from school. Next it is to take the child to a tuition class. By the time the routine is over it's very late in the evening. Where is the time for people to enjoy the finer things in life like music and art?" he asked.
He projects contemporary society through his paintings. He adopts his own style to effectively send out a message. These are black and white drawings. Some may even say they tend to be weird and grotesque. So strong is the message, but Sarath's vision is clear.
Having held 17 solo exhibitions in eight countries (Australia (5), Canada (4), Germany, Malaysia, Norway (3), Switzerland (UN Office), Thailand & Yugoslavia, Sarath is widely known in the international arena. He has got favourable reviews wherever he has exhibited. He recalled how when he held an exhibition in Canberra, the visitors said all they knew about Sri Lanka was cricket. They commented that they never thought that art was so advanced in Sri Lanka.
I told him in the years gone by the Arts Council was a very active body. I asked him whether the panel on painting does not meet regularly. "The panel has not met even once this year," he said. That means after the appointment of new members to the Arts Council after the formation of the present government, the Council has still to start work. That is the interest shown by the state agency which has been given the task of promoting the arts!
Talking about the future of art in Sri Lanka, Sarath is confident that if properly organized it will be a big draw among the tourists.
He sees a lot of potential in converting the area around Vihara Maha Devi Park into an arts complex.
He also talked about the need for artists to get together and try to get the assistance of the government and promoters. Meanwhile, it is possible for the government to pick the talented artists and plan a common programme to promote art.
As for Sarath's talent Professor Albert Dharmasiri, in a note to his recent exhibition says: "His style is born out of his admiration of artistic elements like line and bold colour of 18th century traditional Sinhalese art as well as those of contemporary Western art. Decorative motifs of traditional art are used as metaphor...
In his art, a sense of national identity is apparent."