The main goal of L.P.Ariyawathi--whose ordeal in Saudi Arabia has now hit international headlines-- was to convert her wattle and daub house in a remote village in the deep south, to a decent home.
She decided to seek employment in West Asia to realise this dream and was introduced to a job agent in Kamburupitiya by one of her friends in their village of Batuwita, Thihagoda.
The agency finalized all arrangements to proceed to Saudi Arabia even without charging an additional fee. Ariyawathi's husband who is a labourer and her children, who are all married objected to her idea and wanted her to remain in the village. But 47-year-old Ariyawathi was adamant to go as all her children were also living in the same two-roomed humble home.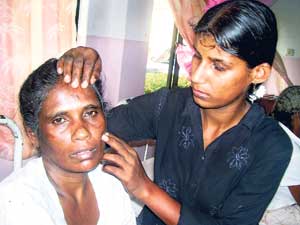 Ariyawathi's daughter shows the spot above Ariyawathi's eye where a wire was inserted
Ariyawathi left in April. She was received by her agent in Riyadh, Saudi Arabia and she started working for a family of five. During the first week she didn't face any problems and was even able to call home.
"It was thereafter the problems started. I was overloaded with work and whenever I was not able to complete it I was assaulted, abused and even threatened with death. I used to work in fear," Ariyawathi told the Sunday Times at her residence.
"One particular day I dropped a saucer which broke into pieces. My employer was angry and he heated up five nails and drove them into my hand. When I shouted out in pain my employer's wife held a knife to my neck," she said.
The work included washing cloths, ironing, cooking, washing cars, cleaning the house which sometimes I could not complete although I got up early and worked late into the night, she said.Thereafter from time to time nails, pins and wires were driven into various parts of her body including her feet, hands, legs and one above an eye, totaling 24 pieces she said.
"I used to shout out in pain and ask for medicine, but none was given. My wounds started to fester and they would ooze. I used to just wipe the wounds and carryon with my work. Sometimes I used to come down with fever but I was not given any medicine.
Four months later when family members stopped hearing from Ariyawathi, they contacted the job agent in Kamburupitiya and two days later they received a telephone call from Ariyawathi. She was only able to speak for about two minutes during which time she informed them that she was suffering and to make arrangements to bring her back home.
Eventually her Saudi employer decided to send her back to Sri Lanka. Ariyawathi says this was not because they were sympathetic towards her but because her wounds were oozing.The Sunday Times learns that on her return journey, at the airport in Saudi, Ariyawathi had been isolated in a room for more than four hours where she was provided with food and drinks. This has led to the speculation that the airport authorities may have been aware of her condition. When a person requires medical attention the usual procedure is to attend to such a person before departure and also make a record of the case. However there were reportedly no such records.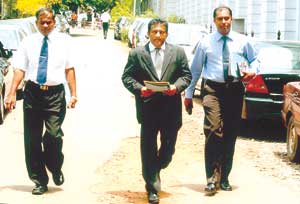 Foreign Employment Bureau Chairman Kingsley Ranawaka and two officials on their way to hand over a dossier containing documents pertaining to Ms. Ariywathi's case to the Attorney Generals Department.
The detectors at the airport had apparently indicated that there was metal in her body, but the authorities had ignored the detection, the Sunday Times learns.
When Ariyawathi eventually returned to Sri Lanka she had been embarrassed to tell her family members about the torture she suffered, instead she had told them that she was suffering from thorn injuries and her family had persuaded her to obtain treatment.
She went to a doctor in Kamburupitiya where she narrated her ordeal. The doctor had taken an x-ray and also administered a tetanus injection. Ariyawathi was admitted to the Kamburupitiya hospital on August 23 and a two and a half hour operation was performed by a team headed by Dr. Kamal Weeratunga on Friday. During the operation they removed as many as 18 nails and pieces of wire. Six pins could not be removed and doctors said any attempt to remove them may cause harm to Ariyawathi whereas they would not cause any harm to her if they remained in her body.
Meanwhile UNP Deputy Leader Karu Jayasuriya, had visited Ariywathi and inquired about her condition.
"This is an abominable act. The government should raise this issue at the highest level with the Saudi authorities," Mr. Jayasuriya told the Sunday Times following his visit.
On the government side it is learnt that only a provincial council minister of the Southern Province had visited her. Foreign Employment Bureau chairman Kingsley Ranawaka yesterday visited Ariywathi in hospital and had said that take steps would be taken to renovate her house.
Ariyawathi initially received Rs. 15,000 from the Foreign Employment Bureau and another Rs. 100,000 as insurance. Mr. Ranawaka said steps have been taken to initiate legal proceedings to bring redress to the housemaid and a dossier containing medical reports, media reports and relevant documents about Ariyawathi's case was handed over to Deputy Solicitor General Palitha Fernando, while they hope to make use of diplomatic channels to take action against the offenders.
Will go after the culprits
Sri Lanka will take action against the culprits who inserted needles and nails into the body of housemaid, L.T.Ariyawathi, said L.K. Ruhunage Sri Lanka Foreign Employment Bureau Additional General Manager.
He said diplomatic efforts were in progress to bring to book those responsible for the act and the Sri Lankan embassy in Riyadh has been instructed to pursue the matter.
Mr. Ruhunage said if the need arose for Ms Ariyawathi to fly to Saudi Arabia for an inquiry, the government will bear all expenses, adding that she would be paid compensation for the abuse that she suffered.