Indian Foreign Secretary Nirupama Rao is scheduled to arrive in Colombo tomorrow to view the progress of resettlement of war-displaced people in the north and discuss utilisation of Indian aid.
Indian Foreign Minister S M Krishna is likely to visit Sri Lanka in October.
Ms. Rao's visit, expected to conclude on September 2, includes a trip to the north and comes within days of Economic Development Minister Basil Rajapaksa's trip to India. Defence secretary Gotabaya Rajapaksa and Presidential Secretary Lalith Weerathunga were also in New Delhi last week. Ms. Rao had earlier visited Sri Lanka in March.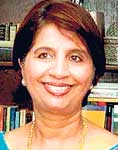 Nirupama Rao
Mr. Krishna was questioned in the Indian Parliament last week by Tamil Nadu-based political parties such as the AIADMK and MDMK over the progress in the utilisation of Indian aid money to rebuild war-ravaged northern Sri Lanka. Mr Krishna had replied that the Indian government was monitoring the situation.
Indian defence secretary Pradeep Kumar is also likely to visit Sri Lanka soon to finalise an annual defence dialogue between the two countries. Modalities such as venue and agenda for the first dialogue are being worked out by the two governments, diplomatic sources said.
Enhancing defence ties in the post-LTTE era was part of the joint statement issued by the two governments following President Mahinda Rajapaksa's meeting with Indian Prime Minister Manmohan Singh in New Delhi on June 9 this year. The annual defence dialogue is likely to take off in 2011.
Apart from meeting Mr. Krishna during his recent trip to New Delhi, Minister Rajapaksa also met Indian Agriculture Minister Sharad Pawar, Finance Minister Pranab Mukherjee, Tourism Minister Kumari Selja and India's National Security Adviser Shivshankar Menon.
According to diplomatic sources, Minister Rajapaksa is understood to have told the Indian leaders that the Sri Lanka government was interested in developing community projects for the revival of agriculture in the island's north and east. The Indian government would send agricultural implements for the purpose.
About 500 tractors and tonnes of groundnut and black gram seeds for the upcoming Maha season along with help to better Sri Lanka's livestock and milk production capacities would come from India. The agricultural assistance costing several millions of Indian rupees would be provided to Sri Lanka through grants, the sources said. Indian parliamentarian and agricultural scientist M.S. Swaminathan had visited Sri Lanka in June last year on the invitation of President Rajapaksa. Chennai-based Mr. Swaminathan was to advise President Rajapaksa on ways to revive agriculture in the north and east but his engagement fell through possibly due to political reasons.
India's frontline government-owned agricultural entity, the Indian Council for Agricultural Research, conducted field surveys in northern Sri Lanka late last year. The Sri Lankan government has also decided to set up an agricultural research facility in the north, possibly at Jaffna University, with Indian collaboration.
According to a statement released by the Sri Lankan high commission in New Delhi on Friday, Minister Rajapaksa, "briefed his Indian counterparts on the progress made in demining the previously conflict affected areas in the north, resettling the internally displaced persons as well as the progress made to restore the livelihood of the people in the northern and eastern provinces."
Mr Rajapaksa also invited Mr Pawar, present chief of the International Cricket Council, to visit Sri Lanka in connection with the World Cup that this country will co-host along with India and Bangladesh February next year.
20,000 Indian workers to build houses in north
By Chris Kamalendran
A 20,000-strong Indian workforce will arrive in Sri Lanka to carry out mega housing projects in northern districts.
The first phase of the scheme, the construction of a pilot project to build 1,000 houses in Jaffna, will get underway in October this year. Similar pilot projects will be launched thereafter in the districts of Kilinochchi, Mullaitivu, Mannar and Vavuniya.
The Indian-gifted mega housing project to build 50,000 houses for Internally Displaced People (IDPs) will be managed solely by a Mumbai-based company. It will be under the supervision of the Government of India. The Sri Lanka government is expected to only allocate the land and identify the beneficiaries.
An Indian High Commission official said yesterday that three officials from the construction company met Jaffna 's District Secretary Emelda Sugumar on Friday to discuss the modalities of the project.
The project was based on agreements reached during President Mahinda Rajapaksa's official visit to India in June.
Under the project 12,500 houses will be built in the Kilinochchi District, a similar number in the Mullaitivu district, 10,000 houses in Vavuniya and 15,000 in Jaffna and Mannar.
To facilitate the Indian construction project an Indian Bank will be opened next week in Jaffna. Already Indian workers have been deployed for railway expansion projects in the north and the south while for the proposed coal power project in Sampur, Trincomalee also India will be sending its own labour force.