Last week during the country's first major international surfing event at Arugam Bay, an energetic figure could be seen enthusiastically mingling with the event's officials and spectators. Some whom he spoke to perhaps did not know that the man smiling warmly at them was not only one of the main proponents for the development of water sports in the country but is also hailed as Sri Lanka's most successful wind surfer.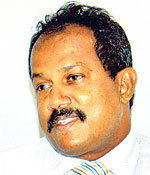 Thilak Weerasinghe
Throughout the eighties and into the early nineties, Thilak Weerasinghe was a force to be reckoned with in the local and international wind surfing arena. He competed in and dominated events staged in places like Trincomalee, Beruwela and Mount Lavinia and further reinforced his dominance by shining in countries like Germany, Singapore, Holland, France, Belgium and the Maldives. According to Thilak his most memorable and outstanding showing came in an event in Feman, Germany in the mid eighties.
"I think I really surfed well there and that was probably my best ever performance. I won the event and beat out several of the world's leading wind surfers," Thilak reveals. Thilak took to the water at a very early age, becoming part of the Life Saving Club at Kinross when he was still a teenager. Then, while in Trincomalee, he discovered the sport that was to shape his life for the next several years.
"It was a new sport to both me and Sri Lanka and I was very excited to learn it. Then gradually I started getting better at it," Thilak explains. In fact Thilak got so good that he not only started winning tournaments but also earned a scholarship from the German Embassy to travel there and be taught the finer points of the sport.
Once there he not only learned how to effectively manoeuver his board but also how to teach others to do so, in order that he may come back and spread the sport. This is what he did in 1982 when he opened an academy called Motor sports Neptune Sailors which attracted a handful of eager windsurfers.
He reached the pinnacle of Sri Lankan windsurfing in 1989 when, after a string of tournament victories, he was awarded the Gold Level Wind Surfing ranking, which established him as the country's top wind surfer.
Since those successes Thilak has been involved with developing and promoting windsurfing and other water sports in an administrative capacity. Besides Windsurfing, Thilak always was drawn towards free surfing (a surf board without a sail). He uses long boards while free surfing instead of the conventional short boards which are prevalent in most international competitions.
"Both windsurfing and free surfing are almost the same, except in one you have a sail and don't need to find waves to assist you. But I will always be more fond of windsurfing," Thilak says
He further explains that Sri Lanka is the perfect country for water sports, with perfect weather, good wind and consistent waves year round.
On a different plan, he says water sports are crucial in attracting tourists looking to find entertainment on beaches plus they also provide local and foreign employment opportunities. Most of the students Thilak has taught have gone on to secure jobs as instructors abroad.
"There are so many gifted surfers and wind surfers in this country. First of all they need to be provided with proper equipment. Then surfers need to be provided with a governing body similar to that which exists for wind surfers. Finally they should all come under one umbrella body which deals with water sports," Thilak asserts. Implementation of these concepts, Thilak feels, will give birth to athletes who will one day eclipse his successes on the world's waters.