KABUL, June 26, (AFP) -A blast which rocked the Afghan capital Saturday was accidental, NATO said, as Washington's military chief arrived to explain the sacking of the US commander of foreign forces in the country.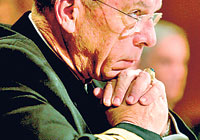 Mike Mullen
The blast, near the foreign ministry in Kabul's embassy district, happened when an anti-personnel mine in an Afghan army vehicle accidentally detonated, a spokesman for NATO's International Security Assistance Force said.
It was not an attack by Taliban-linked insurgents, Lieutenant-Commander Ian Baxter told AFP of the blast, which happened around 9.55 am (0525 GMT).
The blast happened after US Admiral Mike Mullen, chairman of the US Joint Chiefs of Staff, arrived in Kabul late Friday on a mission to reassure Afghan leaders following the sacking of the top commander in Kabul.
Mullen was set to meet Afghan President Hamid Karzai, the presidential office confirmed, after US General Stanley McChrystal was sacked for insubordination. During his one-day visit, Mullen was also due to meet US and NATO officials, the US embassy said.