LOS ANGELES, June 26 (Reuters Life!) - The father of Michael Jackson filed a wrongful death lawsuit on Friday against Dr. Conrad Murray, accusing the physician of giving the late pop star a powerful drug and being slow to call for medical help.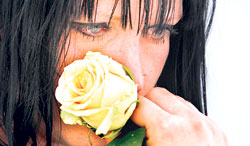 A fan of entertainer Michael Jackson holds a rose as she commemorates the first anniversary of his death, in Leipzig, Germany.
The lawsuit, which had been expected, was filed on the first anniversary of Jackson's death, just beating a one-year deadline for an action against the "Thriller" singer's doctor.
Joseph Jackson, 80, alleges in the suit filed in federal court in Los Angeles that Murray was too slow to call emergency medical services for help, and he later made statements to authorities which turned out to be false, including that Murray was by Jackson's side monitoring his pulse.
The lawsuit states that after paramedics arrived at the Los Angeles mansion where Jackson suffered cardiac arrest, Murray failed to inform them the singer had been given the powerful anesthetic propofol, which he used as a sleep aid.
The suit claims that Murray later changed his story about what happened, and said that he only discovered Jackson was not breathing less than 20 minutes before paramedics were called.
"Defendant Murray's conduct of failing to call (emergency services), of leaving Michael Jackson's bedside, and conducting CPR on the bed instead of a hard surface was below the standard of medical care for physicians," the lawsuit states.
Authorities have ruled Jackson's death a homicide and said propofol was the key drug in Jackson's system that led to his death at age 50 on June 25, 2009, in Los Angeles.