UNITED NATIONS, June 19, (AFP) - The United Nations is launching a 71-million-dollar humanitarian appeal to assist more than one million people affected by the ethnic clashes in Kyrgyzstan, UN chief Ban Ki-moon said Friday.
He told reporters that his humanitarian chief John Holmes was currently meeting donors to discuss the appeal for Kyrgyzstan and that a separate appeal for neighboring Uzbekistan would be launched next week.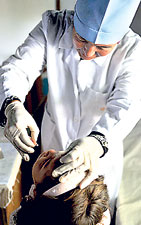 A doctor examines an Ethnik Uzbek girl at a refugee camp in Kurgantepa on June 18. AFP
Ban cited "shortages of food, water and electricity in the affected areas, due to looting, lack of supply, and restrictions on movement" in the central Asian nation where violence has been directed at the Uzbek minority.
He added that hospitals and other institutions were running low on medical supplies as well. "An estimated 300,000 people have been displaced in Kyrgyzstan and up to 100,000 have fled to Uzbekistan, where some 80,000 are located in camps," he said. "Tens of thousands more are reportedly waiting to cross the border."
Meanwhile Holmes, the UN emergency relief coordinator, said he was shocked by "the extent of the violence and appalled by the deaths and injuries, widespread arson, sexual violence, looting of state, commercial and private property and destruction of infrastructure" in Kyrgyzstan.
Describing the needs as "very great," Holmes urged all donors and supporters to ensure that the appeal "receives a generous and rapid response."
The UN Office for the Coordination of Humanitarian Affairs said it has already allocated eight million dollars from its Central Emergency Response Fund (CERF) to kick-start projects in the appeal.
Earlier Friday, Kyrgyzstan's acting leader admitted that the death toll from the ethnic clashes is probably 2,000 -- ten times the current estimate -- as she went to the ravaged south.