NEW ORLEANS, Louisiana, June 19 (AFP) -Embattled BP boss Tony Hayward on Friday handed off the daily management of the Gulf of Mexico spill, as the British energy firm was assailed by its partner for 'reckless' conduct.
BP chairman Carl-Henric Svanberg said chief executive Hayward, a Briton, was handing over the running of the containment efforts to another top official, Bob Dudley, an American.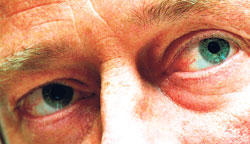 BP CEO Tony Hayward delivers his opening statement about the BP oil spill in the Gulf of Mexico at the House Energy and Commerce Committee on Capitol Hill in Washingto. REUTERS
"Right after the explosion (Hayward) went out there and he has been leading the response ever since," Svanberg told Sky News. "I think everyone believed it to be something we could deal with faster, then he would come back.
"And now he's been around for eight weeks, he's now handing over the daily operations to Bob Dudley, and he will be more home, and be there and be here," he told the British broadcaster.
The handover had been announced earlier this month, but no timing had been given, and Svanberg's announcement came a day after Hayward was pilloried by US lawmakers investigating the April explosion which destroyed a BP-leased rig off Louisiana.
BP also reported progress on drilling the first of two relief wells to permanently plug the massive leak spewing tens of thousands of barrels of oil into the Gulf of Mexico. Kent Wells, a BP senior vice president, said the first relief well was now 200 feet (61 meters) from the ruptured well as it heads towards the bottom of the sea floor.
But officials cautioned that despite the relief well's proximity to the existing well and the fact that BP is some 11 days ahead of schedule, the firm still needs until early August to finish the work before heavy drilling fluids can be pumped into the existing well.
Meanwhile, a co-owner with BP in the well, Anadarko Petroleum, said BP should pay the costs of cleanup because of its 'reckless' conduct, prompting a testy exchange between the two firms.