She was hailed as the shining example of the American dream, a Lebanese-born woman who became the first Muslim Miss U.S.A. Marketing executive Rima Fakih, 24, beat 50 other contestants to win the beauty pageant in Las Vegas.
But her victory was already becoming tarnished last night by revelations that she won a pole dancing contest at a strip club in Detroit in 2007.
She was photographed sliding up and down a stripper's pole in a blue tank top, hot pants and high heels.
Other photographs from the competition showed her wearing a bra stuffed with dollar bills.
| | |
| --- | --- |
| | |
| Bathing beauty: Miss Fakih competes in the swimsuit section of the competition at the Planet Hollywood Resort and Casino | Crowning glory: Miss USA 2010, Rima Fakih, from Michigan, receives her tiara from last year's winner, Kristen Dalton in Las Vegas |
The photos were posted on the website of a Detroit-based radio show following her triumph at the Miss U.S.A. contest on Sunday night.
The radio show's producers claim they have been contacted by the organisers of the Miss Universe competition requesting additional information regarding Miss Fakih's involvement. As the winner of Miss U.S.A., the 24-year-old marketing executive from Michigan will represent the U.S. in the beauty contest later this year.
It is not known if organisers of Miss U.S.A. were aware of Miss Fakih winning the 'Stripper 101' contest at the Coliseum Gentleman's Club. She is believed to have won a variety of prizes, including adult toys and a stripper's pole.
Supporters had claimed that her success in the Miss U.S.A. contest showed the true face of Arab Americans at a time when they have come under the spotlight over attempted terror attacks. Her friend Zouheir Alawieh said: 'We have culture. We have beauty. We have history, and today we made history.'Miss Fakih emigrated to America with her family when she was three.
While Islam disapproves of women showing their bodies in public, Miss Fakih said she was encouraged to enter beauty competitions by her parents. The Miss U.S.A. pageant, co-owned by Donald Trump and NBC, was held at the Planet Hollywood Resort & Casino on Sunday night. Mr Trump has refused to comment.
Miss Fakih competed against the other women in the swimsuit, evening gown and interview competitions.
She nearly fell while finishing her walk in a long, strapless gown because of the length of its train - but managed to recover.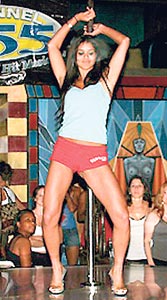 Shaking her thang: Miss Fakih is seen sliding up and down a stripper's pole in a blue tank top, hot pants and high heels in the strip club contest
In the interview, Miss Fakih was asked whether she thought birth control should be paid for by health insurance.
She said she believed it should as it is expensive. 'I believe that birth control is just like every other medication even though it's a controlled substance,' she said.
Supporters wore T-shirts emblazoned with Miss Fakih's picture. On the back was a quote from her: 'It's beauty that captures your attention, personality which captures your heart.'
Miss Oklahoma Morgan Elizabeth Woolard was first runner-up after handling a question about Arizona's strict new immigration law. She said she supports it. The Miss USA pageant has been dogged by controversy in recent years.
Last year's winner Carrie Prejean was stripped off her title after it emerged she had made a sex tape.
She also caused controversy by claiming during the pageant that marriage should be between 'a man and a woman'.
And in 2006 Tara Conner, 20,admitted to taking drugs and underage drinking. She was allowed to keep her title after going into rehab.
Courtesy dailymail.co.uk