MANGALORE, May 22 (Reuters) - An Air India Express passenger plane from Dubai crashed outside an airport in southern India today, killing 158 people when it burst into flames after overshooting the runway and ploughing into a forest.
There were only eight survivors after the Boeing 737-800, with 166 people on board including crew, appeared to have skidded off the runway in rain at Mangalore airport in Karnataka state, Air India director Anup Srivastava said.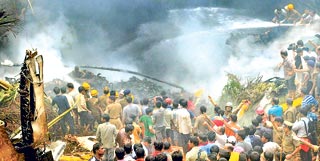 Onlookers and firefighters stand at the site of the crashed Air India Express passenger plane. Reuters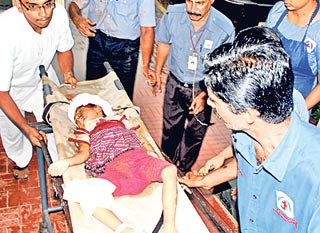 A surviving child is taken to a hospital. Reuters
All the passengers were Indian nationals, an Air India official in Dubai said. Air India Express is the budget arm of the loss making state-run carrier Air India, which has been fending off growing competition from private airlines. First indications are that the crash was an accident, officials say.
Television channels said the plane crashed around 6:30 a.m. (0100 GMT). TV images showed it struck a forested area. Flames were seen blazing from the wreckage as rescue workers fought to bring the fire under control.
"The plane had broken into two. I jumped out of the plane after it crashed. I saw two other people also come out," Abdullah, a survivor from the plane, told local channel TV9 from hospital.
"There was a tyre-burst kind of noise. I tried to get out of the front but saw that there was a big fire. So I went back again and jumped out from there." It was India's first major crash in more than a decade, which has seen a boom in private carriers amid growing demand from India's middle class.
A series of near misses at major airports, including Delhi and Mumbai, have sparked debate about how India's creaking infrastructure was failing to keep pace with an economic boom.
CHARRED BODIES
One television channel showed a fireman carrying what seemed to be the remains of a child. Charred bodies lay in the forested terrain.
"The flight had already landed. There was slight rain. The flight skidded off," witness Mohiuddin Bava told CNN-IBN channel. "After that it caught fire. Villagers, everyone there, came to rescue." The last major crash in India was in July, 2000, when an Alliance Air Boeing 737-200 crashed into a residential area during a second landing attempt in the eastern city of Patna, killing at least 50 people.
With growing competition from private carriers, the Indian government agreed to infuse $1.1 billion into loss-making Air India if the ailing state-run carrier found the same amount in cost cuts and extra revenue.
The airline lost $875 million in the fiscal year ended March 2009.
Hundreds of Air India pilots went on strike in September 2009 to protest management plans to cut pay incentives. The strike was called off when aviation minister Praful Patel said the grievances would be dealt with.