With the housing and real estate industry facing many challenges during the past causing certain companies to even close down, the Prime Group has however been able to successfully weather the storm. The Sunday Times supplements desk decided to speak to Mr. B. Premalal, Chairman of the Prime Group of Companies to find out the secret behind their success as well as their latest project.
What you do feel is the secret behind your success?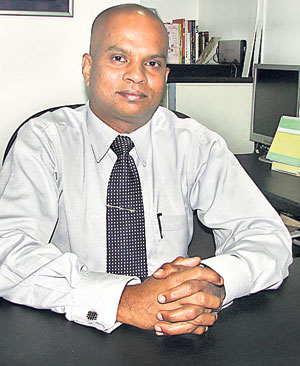 B. Premalal, Chairman of the Prime Group of Companies
The secret behind our success in the industry I feel are the core values that our group is governed by. We started business operations 14 years ago with only three staff members, today however we have grown in leaps and bounds to become an organization that has over 100 direct as well as over 100 indirect employees. Despite our success we still adhere to the same core values that we followed from the very beginning of our business operations which have helped our organization to grow and prosper even despite the most challenging of times.
What are these core values that you follow?
Customer Focus Our vision is to "Create a better Place on earth"
All our actions, all our strategies are to make that vision a reality. We want to give our customers a better place on earth, which means a good land, value for money, land which enhances their quality of life and also which increases their wealth in the future. It also means convenience in transaction with us, convenience in raising loans and easy payment terms and convenience in accessing better infrastructure.
As a result when a customer purchases a land, he will have less hassle, less headache and less burdens. We deliver what we promise. In fact our aim is to deliver more than what we promise, resulting in increasing customer's faith in us.
Trust, Honesty and Reliability
Trust plays a vital role, especially in real estate transactions. We give highest weight to maintain the trust that our customers have placed in us.
When a customer comes to us, to purchase any land, he may have used all savings of his entire life and also may have had to obtain long term loans ranging from 15 - 20 years. We at Prime Group therefore have come to understand the great extent the customers have gone in order to invest with us.
Therefore it is our responsibility towards the customer to ensure that we provide them with high quality hassle free products worthy of their investment. We really go into ascertain the accuracy of title deeds, even if the land is physically good, we reject it if the title deeds are not in order. We have found how some unscrupulous people and organizations have grabbed those lands and by changing documents fraudulently they manipulate to sell those lands to innocent and unsuspecting customers.
We do not adhere to those types of practices even if we were to undergo losses. We believe the customers should be given a hassle free product where he may not have to face any problem after the transaction. This trust is not confined to our customers, but it is extended to our suppliers, other financial institutions, government organizations and all other stakeholders. We had gained tremendous trust and goodwill in the market and we take every endeavour to maintain that trustworthiness, truthfulness, reliability and honesty.
Flexibility
We believe in flexibility to our customers as their needs and wants are different and numerous. Here we have to adjust ourselves according to customer's requirements and as a result more people can therefore afford a little land and make their dreams a reality. We are open 365 days, accommodating them at their convenience and our easy payment schemes are geared to give tailor made packages to suit their desires.
Realistic prices - not artificially inflated prices
During the last decade especially, we have seen land prices soaring and customer's dreams remained dreams. Even the people who had bought lands from some organizations were left with land for which they have paid unnecessary due to artificially inflated prices causing heavy financial burdens. During the last decade we saw this real estate sector was dominated by so called giants in the industry where they were manipulating land prices causing customers to pay very high prices and thereby making them to face untold hardships.
How has the land prices gone up unrealistically?
To understand this we have to analyze the entire process from purchase to final disposal of land.
Purchasing at higher prices using middlemen and unscrupulous elements. Purchasing of land at a correct price plays a major role in deciding the final price to the customer. We had seen some organizations using unscrupulous middlemen within and outside the organizations in the purchasing process. This has led to enrich themselves at the expense of customers and their organizations. So the ultimate result was increase in land prices causing customers to pay more.
High Cost of development
Here again using middlemen resulted in high development cost of the project. The end result was the increase of prices of lands.
High Organizational Expenditure
High expenditure of organizations due to their complex and large organization structure causes lavish and unnecessary expenditure to be incurred. These high overhead expenditures have to be borne by the customers.
High advertising and promotional expenditure
Some organizations are spending very high costs on promotional and advertising campaigns in order to boost their organization and self image. The end result was again that customers had to pay more.
High financial cost
In order to finance land projects organizations that do not have internally generated funds have to borrow at very high interest rates. This results in the project costs going up and there again the burden will fall on the customers.
Our success was due to the fact that from the beginning we have identified clearly all these five elements that would affect the price of land. Our objective was to give a land at a realistic price where at the end the customer would be satisfied with his purchase and also over a period of time a customer's wealth would increase due to appreciation of their investments. Our top management is directly involved with the suppliers avoiding unscrupulous elements in the process. As a result that burden would not come to the customers by way of inflated prices.
Secondly we develop our lands by ourselves. We have our team of experts, competent employees, machineries and other resources and that saved us a lot of development cost.
Thirdly we do not have a large and complex organizational structure. We are a lean, flexible and flat organization. Therefore unnecessary organizational overheads have been eliminated at Prime Lands.
Further more we do not spend on unnecessary advertising and promotional activities in order to inflate our organization and self image. Therefore with minimum advertising cost, we are able to reach and are able to communicate our message with the customer.
Finally as we are financially sound and we have strict financial discipline. As a result customers do not have to pay an additional interest burden through their prices and therefore they are immensely benefited.
Hence all these years we have managed to give customers "Value for money" at realistically lower prices and they have benefited immensely and as a result we also grew stronger.
Tell us about your latest project?
Our latest project is Prime Marvel which is located in Homagama, which also has been selected in accordance with our core values. Prime Marvel offers ideal lands that are set in the most convenient of locations. In addition to this Prime Marvel is considered to be a value for money investment opportunity and includes all the other prime conveniences that customers require.
Prime Marvel is located just 600 metres away from the High Level Road, and is ideally located in an eye-catching area that is surrounded by lush paddy fields. This project offers all other conveniences such as electricity, easy access roads, and wide internal roads and is a minute's drive to the Godagama town. You can secure your plot with a down payment of Rs. 295,000/- onwards.
Any future projects that you are hoping to undertake?
A future project that we will introduce in the future includes a plot of land in Warakapola facing the Kandy road. Another ideal land project that we hope to introduce in the future is a site facing the Bolgoda Lake in Rathmalana which is located in a homely environment with a stunning view. Our other future projects include lands in Kalutara Dodangoda, Hikkaduwa, Navagamuwa and Kadawatha.
How confident are you about this year's business prospects?
For the last 30 years our country went through a terrible war, but today people are enjoying their new found freedom and I feel that in a few months time the country's economy will grow and this in turn will also be favorable to the real estate sector. As a commercial organization that has delivered the best to its customers at all times I am confident that we will also be part and parcel of the economic developments taking place in the country.