The breast vs bottle battle for the "young child" has taken a new turn, with milk giants resorting to various insidious and unethical methods to promote their products, sending shockwaves in health circles.
Such modus operandi by the milk giants in their race to catch the "young child", especially those who have celebrated their first birthday, includes tamashas at five-star hotels with product launches (euphemistically called introductions) thrown in for eminent gatherings of medical personnel including policy-makers, all expenses paid junkets to foreign destinations to attend medical meetings and misleading advertisements in the media to tempt mothers, the Sunday Times understands.

Seemingly abiding by the codes and guidelines set not only internationally but also locally prohibiting the promotion of formula milk for "infants" (up to one year) as against breastfeeding, the main giants in the milk industry are, however, exploiting the "young child", it is learnt. The young child is defined as those between one and five years old, with a particular focus on one- to two-year-olds.
One brand not only sponsored the sessions of a college of medical personnel but also introduced "specialized milk for 1 to 3 year-olds" by handing out gift packs comprising a milk packet, a mug and a pen prominently displaying its logo, after a grand dinner at a five-star hotel, a senior health official said on condition of anonymity.
Even though knowing well that the policy and recommendations of the government are to promote exclusive breastfeeding within the first six months after birth, then begin complementary feeding with such foods as a home-made multi-mix along with breastfeeding and gradually increase the solid food intake of the young child while breastfeeding up to two years, the milk companies are in a race to promote "growing up milk powder" (GUMP) among one-year-olds although there is inadequate scientific evidence of their usefulness, lamented a respected paediatrician.
This is also despite the strong 'Global Strategy for Infant and Young Child Feeding' very well publicized worldwide by both the World Health Organization and UNICEF.
The recommendation for children between one and two years is family food including one to two helpings of a milk product which could be a glass of whole milk, curd, yoghurt or cheese, while continuing breast milk, he said.
"The policy is very clear – we want our mothers to breastfeed their children up to two years. It is the best nutrition for the young child with no extra cost for the family," he said.
While moves are underway to strengthen the 'Sri Lanka Code For the Promotion, Protection and Support of Breast Feeding and Marketing of Designated Products', the paediatrician pointed out that such product launches were clearly in violation of Article V of the present Code.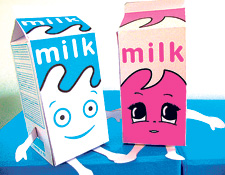 Milk giants targetting innocent children. Pic courtesy foodcourtlunch.com
Article V titled 'Health Care Workers' categorically states: "No information, including scientific and factual information regarding infant or young child feeding, shall be given by any manufacturer or distributor to a health care worker….provided however where the manufacturer or distributor discloses all the material in respect of such information to the Monitoring Committee and the Committee approves such information……
The Code further stipulates: "No manufacturer or distributor of designated products or complementary food or any person on his behalf, shall offer or give any gift or benefit to a health care worker including but not limited to fellowships, study grants and funding for attendance at meetings, seminars continuing education courses or conferences within or outside Sri Lanka. Any manufacturer or distributor may make contributions to a nationally recognized medical association in accordance with the objectives of the Code and such contribution shall be intimated to the Committee……"
A "health care worker" has been identified by the Code as a person providing or in training to provide health care in a health care system whether professional or non-professional including voluntary workers and dispensing chemists while a "young child" has been identified as a child from the age of 12 months up to the age of two years.
Not to be outdone, another milk company hosted a "nutrition discussion" bringing down two experts from Germany once again at a five-star hotel, a week after, but was clever enough not to distribute any material. "They did it the subtle way," laughed a high-level health official, adding that the wining and dining were enjoyed by all those dealing with young children such as paediatricians, paediatric registrars etc.
Another milk company did it a different way some time ago, the Sunday Times learns, "sponsoring" paediatricians on a fully-paid trip to a child health conference abroad.
The first company had also brought in a child specialist cum scientist to address many important groups of doctors and medical policy-makers this month, while also placing full-page advertisements in question-and-answer form on the importance of DHA (Docosahexaenoic Acid) in a child's brain development. Without mentioning a particular milk brand, this "renowned child health specialist" talks of "growing up milks" as an important source of DHA.
What he fails to mention in the advertisement is that he is a consultant to that particular milk company. "There is a clear conflict of interest," stressed a perturbed senior paediatrician, explaining that such scientists must clearly state their links with the milk company so that everyone knows they have a vested interest.
The other important point is that breast milk is the best and least expensive source of DHA, while there has been no conclusive evidence through clinical trials of the benefits of DHA-added milk for "young children". However, there is strong evidence that breastfed children have better cognitive development (intelligence) than those who are given milk formula, he said.
There are several other less expensive sources of DHA such as small fish and organ meat (eg: chicken liver).Toddlers who are on a mixed family diet while continuing breastfeeding can obtain their DHA in this manner, he added.
Code committee decides to act
The Violations Monitoring Committee of the 'Sri Lanka Code For the Promotion, Protection and Support of Breast Feeding and Marketing of Designated Products' set out by the Health Ministry met last week to discuss stronger implementation of the Code, the Sunday Times understands.
The committee has already written to the Director-General of Health with regard to certain violations and will also keep the Consumer Protection Authority informed about them, it is learnt.
Most of the multi-national milk companies are taking cover for promoting milk among one-year-olds on the excuse that the Code is only for infants, without following it in spirit, knowing that Sri Lanka's recommendations are to continue breastfeeding up to two years, concretely supported by the WHO and UNICEF Global Strategy, another official said.
In the light of the happenings in the milk industry, the Sri Lanka College of Paediatricians has informed all its members not only through its newsletter but also on e-mail about the need to adhere not only to the Code but also to the recommendations. "We've made them aware so that even those who are new to the profession will know," said a spokesperson.
Companies say no unethical practice
Two milk companies were categorical in their denial that they were unethical in their actions, stressing that they have upheld the spirit of the Code. They were of the view that a ban on promotion of 1+ milk is just a suggestion and not regulated.
"Our company has not acted unethically," said an official when contacted by the Sunday Times about sponsoring the sessions of the medical personnel and presenting packs with a milk packet, mug and pen.
"It was not a promotion of any product. We were making them aware and educating them, so that if a mother asks them they can give a proper insight into what it contains," he said adding that the mug, pen etc were just tokens
With regard to the child expert, the official said he was in independent person who expressed his independent views. He came on invitation and the company sponsored some of the events during his stay here.
When asked whether the expert divulged his links with the milk industry, he said there was no need to because everyone knew the company sponsored those particular sessions and the expert spoke on nutrition.
With regard to misleading advertisements and not stating in the advertisement that he was linked to the milk industry, the official said there too the expert was expressing his independent views on nutrition.
The second company which hosted the other nutrition seminar with another foreign couple as experts and dinner for doctors said it was an event where scientific and factual information was disseminated. "No brand was discussed, no posters displayed and no product promoted," an official said.
The experts had come to India and we just invited them here for a day and paid only their airfare and for the food at the hotel, he said. "No fee was paid to them, consultancy or otherwise."
When the Sunday Times contacted the milk company which had "sponsored" several paediatricians to attend a conference abroad, a senior official said he was unable to comment as he had not been with the company at that time. He requested that the return of the head of the company who is abroad should be awaited for a comment.