Celebrating its silver anniversary, Inner Wheel District 322 has kept to the theme, 'help bring hope', by assisting needy women find a means of generating an income. The theme was set by the President of Inner Wheel International, Anne Fryer, who was chief guest at the anniversary celebrations.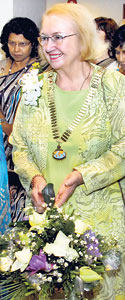 Anne Fryer
A British national, Anne has been part of Inner Wheel for over four decades. Living on a farm in England with her husband and son, she has also devoted her time to assisting her husband with Rotaract activities apart from her duties for Inner Wheel. Being appointed President of Inner Wheel International recently, Sri Lanka is the first country she visited since her appointment.
'Inner Wheel' was established worldwide for the wives and daughters of members of 'Rotaract'. There are currently over 100 Inner Wheel clubs across the world with around 100, 000 members. District 322 was part of a larger District in Asia, before the Sri Lankan members decided to establish their own club in 1985. While Inner Wheel has been functional in Sri Lanka for much longer, District 322 celebrated its 25th anniversary as an independent club this month.
The projects carried out by Inner Wheel are directed at helping women and children, and empowering them, but there are several projects where the club has reached out to less fortunate men as well.
Inner Wheel District 322 in putting into practice the Chinese saying 'to give a man a fish is to feed him for a day, but to teach a man to fish is to feed him for a lifetime', trained widows how to knit mosquito nets so that they would develop a skill that they can use to generate income for their family. One of the women was gifted a sewing machine on the occasion of the Inner Wheel president's visit.
Speaking about the project District Chairman, Swarna Soysa said, "We have adopted 18 widows with school going children. Our aim is to help the mothers find employment, and assist the children financially with their education." Their clubs will monitor their progress so that, the children of these families will have the advantage of a good education and attain freedom from poverty so that they can live with dignity in our society.
The club has also been involved in other larger projects such as helping tsunami victims and IDPs, in the past. - Pix by Sanka Vidanagama