With people taking to the streets in jubilation, the drive down to Galle on January 28 was punctuated by the appearance of victory parades and smaller groups of celebrants. But come evening, plastic streamers were replaced by flags in another shade of blue as the 2010 Galle Literary Festival kicked off.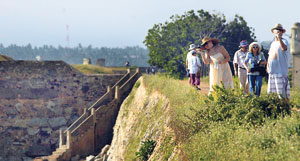 Sightseeing by day: Visitors explore the ramparts
Guests mingled on the lawn of the Dutch House at a cocktail party that welcomed writers to the festival. Michelle de Kretser was the first to arrive in Sri Lanka and Ian Rankin among the last – but both made it to the party.
Michael Frayn, Rana Dasgupta, Mohammed Hanif, Shyam Selvadurai, Antony Beever, Sarnath Banerjee, Diran Adebayo, Ameena Hussein, Artemis Cooper, Louise Doughty, Lal Medawattegedara and David Blacker were all there.
The festival, that ends tomorrow, would claim plenty of their time and attention in the days ahead – but this was the prelude, an evening of laughter and conversation under the clear dome of night sky.
Diran Adebayo and Louise Doughty

Gillian Slovo

Rana Dasgupta with a guest

Antony Beever and Ru Freeman

Libby Southwell and Ameena Hussain

Shyam Selvadurai

Mohammed Hanif and Sarnath Banerjee