It was the 2nd ODI between England and South Africa. The commentator in question was former England opening batsman now turned commentator Geoffrey Boycott. The topic was Botha the South African off spinner who was reported for a suspect bowling action and who had to give up his doosra! Interestingly the reason for the discussion was the non inclusion of Botha.
Ironically, the final result was Boycott questioning the legality of the action of the Sri Lankan record breaking spinner Muttiah Muralitharan. He actually went on to say "how is Muralitharan bowling the doosra when Botha can't?" it appears that the argument referring to the legality of Muralitharan will rage on whether he plays or stop playing! This is despite the numerous times he has been tested and some times voluntarily and cleared! I wonder whether there has ever been a sportsman in the world who has been humiliated, questioned and scrutinized so much as Murali who should now be compared to NASA simply for the number of tests it has conducted. And the accusations and the allegations don't appear to end either. It was first Darrel Hair and then Emerson who had the guts to call Muralitharan even when he bowled the leg break too on the eventful tour of 1995.

One remembers Dav Whatmore and the late Josephian cricketer Trevor Croner walking along the boundary line on that tour filming Murali from different angels when he delivered both the off break and the leg break. They say you can't chuck a leg break. But believe it or not Darrel Hair found fault with the leg break too and with it, it was clear to the World that the calling of Murali had a lot of other reasons outside cricket or at least so one felt considering the chain of events.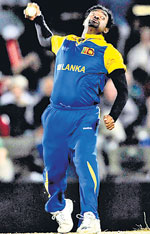 Muttiah Muralitharan

The list of persons who called Murali an illegal bowler has been studded with personalities who have been generally courting controversy in their own life as well. Amongst a few, Geoff Boycott the respected English Opener was never short of controversy in his life and once had a self imposed exile from cricket for three years. Add to that numerous stories about him which are both official and unofficial we have the evidence to provide a reasonable explanation of who Boycott really is which will definitely discount his comments concerning Murali.

The other most vociferous critic was the former Indian skipper Bishan Singh Bedi, who himself was once secretly filmed when he played for Northamptonshire when the authorities doubted his bowling action! Bedi has been quoted many times hurling most despiable remarks at Murali, and even going to the extent of comparing him to a thief! Bedi finally backed down when a letter of demand was served on him and since then has been thankfully silent sparing the millions of cricket fans a dose of venom and jealousy.

Despite all these allegations it is interesting to note that Muralitharan just carried on with his trade whilst being accused of throwing. It was then that Mahinda Wijesinghe the respected Sri Lankan writer came up with a gem! And that is to bowl in a brace to which suggestion Murali agreed to prove his innocence. Dressed in a brace with ESPN Star filming his bowling and Ravi Shastri watching, Muralitharan bowled to non other than Michael Slater the former Aussie opener who himself was a firm believer that Murali possessed an illegal action! It took only around 15mts for Slater to realize his folly when Murali with the Brace which virtually held the hand in a firm position not allowing the questionable flexing of it, bowled and spun the doosra as effectively as he had done in the middle to the utter amazement of Slater who vowed to tell not just Australia but the entire World that Murali had a legal action. Mark Nicholls and the channel five were equally surprised when Murali bowled his full compliment of deliveries with the Brace and were equally convinced of his legality.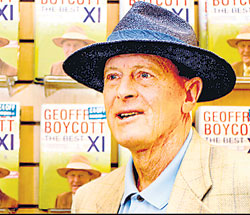 Geoffery Boycott



The respected Australian captain Steve Waugh writing in his biography clearly states that Murali has been the most discussed cricketer ever in a dressing room, often being subject to bias conclusions! It was no secret that a well known New Zealand commentator was in the habit of calling Murali "Chakthidaran" off air whilst the English fans composed a song to the tune of the famous " row row row you boat" to sound as " throw throw throw the ball gently down the seam" " Murali Murali Murali Murali chucks it like a dream" Could you think of any other sportsman in the world ever to be insulted this much?

Despite all this Steve Waugh admits that after his personal research, Murali was not at all illegal! He agrees with many knowledgeable persons that his action was the result of an abnormal rotation of his shoulder and wrist which creates what the experts call an optical illusion. Besides that it was at the University of Perth that a group of experts in the company of Darryl Foster tested Murali many times and found him perfectly fine.

With such a background it is most confusing to note as why this tirade against Muralitharan is carried on by interested persons and also what right they posses to question him!

If one were to raise an argument for Muralitharan the bowler, can he ever be denied of his current standing in world cricket? Whilst there are the one's for and against him as it will be the case in any individual, there is no doubting or challenging his position as one of the greatest the world has ever seen. He will always be remembered for his bowling skills despite a few calling him names which was common in the lives of most celebrated personalities. Even the great Mahatma Gandhi who adopted a non violent method to overcome the British oppression had his opposes. As such it is only trivial to witness it in Murali's life.

In conclusion we once again see the double standards of the so called western world. This is a fact that has been evident mostly in political fields and other areas, not so much in sports. Muralitharan comes across as a personality who has rubbished their claim of fighting for the oppressed or the less privileged! It has been most compelling to note that a disabled person or in the case of Murali who has a deformity being criticized, victimized and even called names and not encouraged, when their whole claim all the time is to encourage such a person! It would have been most interesting to portray the possible reaction of the very same people had they produced a similar bowler who would have been half as effective or good as Murali!
But as justice would have it Victoria the home of the great Melbourne Stadium had signed Muralitharan to play in their big bash T 20 tournament in front of possibly the same people who hurled abuse at him. What would have been the reaction of the very people had he spun batsmen out, of the opposing states helping the Victorians to win? Maybe we will never find out as Muralitharan will not be able to fulfill his contract due to national duty. But come what may the world will know that Murali, as they call him, was some one special.

Roshan Abeysinghe is a leading cricket promoter and an international cricket commentator