The presence of President Mahinda Rajapaksa at the SLRFU XV vs The Defence Services rugby game for the President's Trophy at the newly furbished Rugby Grounds at Welisara last week came as a boost to the game. It was however sad to note that no Kandy SC players were included in the SLRFU XV. If some Kandy SC players had made their way to the SLRFU side perhaps the result could have been reversed.

The Defence Services won the game 15-6. Some of the leading rugby players mentioned in the following interview with rugby coach M.D. Ifthikar featured prominently in this game.

Ever since William Ebb Ellis broke the rules of football by picking up the ball and running with it at a football game at Rugby School in Rugby, England in 1823 and Rugby Football evolved, many rugby stalwarts, coaches and those associated with the game have emerged over the years.

For some the game had given them life long ambitions and heartburn for a lot of others. This is the tale of a player at first and coach next from Isipathana who rose to dizzy heights but yet could not penetrate right to the top because of petty differences. It was a series of articles in the Sunday Times on rugby football that drew M.D. Ifthikar to me. He had a life long desire to relate his rugby experiences as player and then coach and express his opinion at the current situation of the game.

One thing is sure, Ifthikar is a dedicated coach. First he studies his opponents thoroughly for their plus and weak points. Then he draws up a plan to counter them. That was how Isipathana and the teams he handled in later years such as S. Thomas' Mt. Lavinia, CH&FC, Police and the Sri Lanka Junior National teams met with a considerable degree of success.

He has had a hand in fashioning out great Sri Lankan players such as Selvyn Sally, Lakshmiweva (Police), former Havelocks skipper and Sri Lanka player Lakshantha, Dilroy Fernando's brother Sanjay Fernando, Shantha Rohana, Bandula Mallikarachchi, Shamly Nawaz, CR's skipper Ashen Karthelis, President Mahinda Rajapaksa's sons - Yoshitha and Namal, Nimal Lewke's son Dushantha, Daya Jayasundare's son, Michael Jayasekera's son, Zulki Hamid, CH skipper Dilan Wijesekera, Anuruddha Walpola, Shamly Mohammed (former CR skipper), Jeevan Gunatilleke and a host of others.
Ifthikar says that he has been a low profile coach, but according to the successes he has had on the field of rugby, he is far from it.

After a glorious rugby season at Isipathana in 1979, 80 and 81 playing alongside former Sri Lanka skipper Hisham Abdeen, Fashan Sally and a stint at CH and FC as a flanker in 1982, Ifthikar joined Isipathana as assistant coach to O.W. Perera when Isipathana grabbed the Triple Crown - winning the League, Sevens and the Schools knock-out. After O.W. Perera migrated to Australia Ifthikar held the Isipathana reins with great distinction. Then he shifted his attention to Petersons SC and was assistant coach at CH and FC under Tony Amit and in 2001 assumed duties as senior coach at CH and FC in 2001.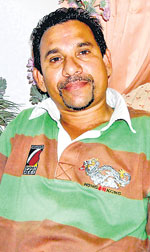 M.D.Ifthikar
He was also official coach to S. Thomas' Mt. Lavinia handling the Under 15 and Under 17 teams being an assistant to Ajit Abeyratne of Trinity and CR fame. At S. Thomas' he came in touch with Ashen Karthelis and the Rajapaksa brothers - Yoshitha and Namal. He reflects with affection that the Rajapaksa brothers would even pick him for practices - underlying his importance as a coach. In 2003 he was even coach of the CR and FC team.

His services were even sought by Police in 2005 when he was their Technical Advisor and rose to be their senior coach in 2007.

Ifthikar says with regret that the showing of the Red Card to M.A. Munna of S. Thomas' Mt. Lavinia during the Sri Lanka vs Czech Republic rugby game at the Under 19 World Cup game in Chile, Santiago in 2001 resulted in Sri Lanka being defeated by Czech Republic 13-12.

"If Sri Lanka had won this game we would have gone on to the finals and would have been champions."
He rates Jivan Goonethilleke (STC Coach), Viraj Prasanna of STC, CR and Sri Lanka, Bilal Yusuf, Shamly Nawas, Niloufer Ibrahim (Kingswood), Sunanda Fernando, Sanath Martis (St. Peter's) and Priyadarshana of St. Joseph's as the finest coaches he has encountered.

Regarding the present crisis in the Sri Lanka Rugby Union he hopes that the situation is brought under control as soon as possible and the Interim Committee is replaced by an officially elected body.
His last official assignment was when he was Assistant Coach to the foreign coach at the 2007 Asiad held in Colombo.

It is natural for Ifthikar to be associated with sports as he is married to cricketer A.R. Farcy's daughter Zahra and his eldest son Ghazali played rugby and cricket for St.Peter's and daughrer Azraa played Table Tennis for St. Lawrence's Wellawatte and youngest son Omar who attends St. Peter's is very keen to follow his father's and brother's footsteps.