If there's one thing the youth of Sri Lanka is lacking in, it's the ability to apply theories into practice, according to the director of Synergy School of Marketing, Michael Ranasinghe. In an effort to polish the practical skills of students, the Synergy School of Marketing has taken it upon itself to organise The Synergy Genius Quiz, which has been designed to do just that.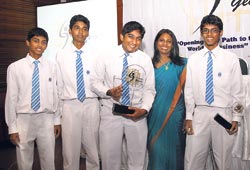 The winners - St. Joseph's College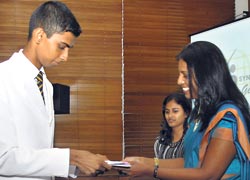 1st runner up - Royal College
Having started out last year, the second quiz competition was held on 2 October at the Excel World auditorium. The competition consist of five rounds during which the participants note down an answers to questions read out by the 'quiz master,' Mohamed Adamaly.
"Each round has a particular theme of questions such as business, business theories, economics, general knowledge and sports and entertainment. The main objective of the competition is to enhance their knowledge in general business so they'll be better prepared once they leave school and set out into the world" explains Ranasinghe.
The Synergy Genius Quiz is the only business oriented quiz in Sri Lanka at the moment, but it's not restricted to students of the commerce stream. Participants from any stream are welcome to take part in the quiz, as those at the Synergy School of Marketing plan to make the competition a major event among all schools in the near future.
Since the competition was first held, more schools have been invited to send a team representing their school to participate in the competition.
This year, A/L students of Bishop's College, Ladies' College, Holy Family Convent, St. Joseph's College, S. Thomas College, Royal College and St. Benedict's College took part in the competition this year, at which the St. Joseph's College team emerged winners and Royal College were awarded first-runner-up. The judge and chief guest for the event was Ms. Mel Gunasekara AFP correspondent in Colombo.
"We've been preparing for the quiz over the past two weeks by dividing the five categories among us and collecting as much information as we could," says Michael Mendis of the St. Joseph's team. "The competition was fun and interesting, and we thought the quiz master was fun," adds Michael with a grin.
The St. Joseph's College teams was awarded full scholarships to Synergy School of Marketing and the first-runner-ups, Royal College, were award half a scholarship.
The organisers were pleased with how all the schools had faired, and each team was awarded participation certificates. More schools will be invited to participate in the quiz next year as the quiz gradually expands into a larger competition.
The associate sponsors were HNB and James Finleys. The audio-visual partners were Pan Audio, while Matt Floral was the floral sponsors. The Sunday Times the print media sponsors for the event.