We all have our dreams and aspirations, but how many of us pursue them? Neranjan de Silva is one who is living his dream.
His interest in choral music, the church organ and in being an accompanist was born and nurtured when he was a chorister at S. Thomas College, Mount Lavinia. The sound of the Hammond organ in the loft of the Chapel of the Transfiguration at STC, with Russel Bartholomeusz – the choir master and organist was something he looked forward to at their three weekly practices and regular Sunday service. He was determined to become an organist one day.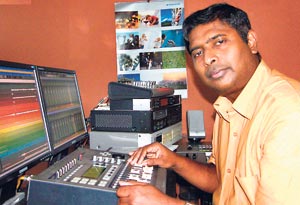 Neranjan: Living his dream
When he did summon up enough courage to ask his choir master if he could play the organ, he was advised that he should have passed at least Grade 5 in pianoforte before he even thought of playing an organ. And so Neranjan was determined and at the age of 15, began formal music lessons under Vilma Varnakulasinghe.
Within six months, he had got through Grade 4. The other grades went by rapidly – he skipped some grades, and at times sat for two grades in a year. At the end of six years, in 1983, he was armed with an FTCL and LRSM – more than what he had been advised to have prior to sitting at a church organ.
Over the years Neranjan has become one of the country's reputed organists. Constantly growing as a musician he was a regular accompanist for soprano Preshanthi Navaratne, the all-male group the Revelations as well as several choral groups over the years, including Sri Lanka's popular all girl choral group Soul Sounds.
Neranjan will celebrate his 25 years as an accompanist on his birthday, October 13, with a 'Celebration in Song' at St. Mary's Church, Lauries' Road, Bambalapitiya at 7.30 p.m. It will be a unique event where some of the country's best voices- from the Soul Sounds, the Revelations, the Merry An Singers, St. Mary's Choral Group, the Peterite Chorale and the LG Singers all combine for the first time ever, to form one large choir, directed by Mary Anne David and accompanied by Neranjan at the organ.
To have so many leading choral groups singing as one will be a rare treat for music lovers and an apt celebration of Neranjan's sterling contribution over the years. Entrance is free.