Minister of Tourism Promotion Faizer Mustapha said he was disappointed by the protests staged by the employees of the Sri Lanka Tourism Promotion Bureau (SLTPB) this week on wage issues as well as restricting private sector involvement with the Ministry.
Speaking to the Sunday Times FT, Mr. Mustapha said there are certain salary anomalies with regard to the SLTPB but that those matters should be solved through a consultative process.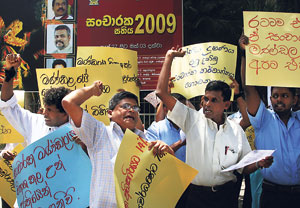 "I condone the protests because they were in a high security zone and our Ministry has always opened its doors for a consultative process," Mr. Mustapha said. "There is no need to picket and make demands." He added that private sector participation in decision-making processes is positive. "I firmly believe that private sector participation is the way forward but there are a few issues with the Act that need to be resolved. Going to the street is not the way."
Mr. Mustapha said amendments to the Act can be made if there are issues and a committee was appointed to review the Act. However, he reiterated that problems must be solved through consultations. "I have always had a good relationship with the employees. They came and met me once and I urged them not to picket. Our Ministry is very progressive in our thinking and we have never had conflicts with our employees." Mr. Mustapha said it is now up to the employees to contact the Ministry for discussions.
The Joint Front of Sri Lanka Tourism wrote to the President in September 2009, calling for the re-establishment of the Sri Lanka Tourism Board which they said, rendered a great service to the tourism industry for over 41 years. They also asked that the Tourism Act be repealed. With effect from October 2007, the Tourist Board was divided into the Sri Lanka Tourism Development Authority, Sri Lanka Tourism Promotion Bureau, Sri Lanka Convention Bureau and the Sri Lanka Institute of Tourism and Hotel Management.