Rural Sri Lankans are taking the driving seat in growing Fast Moving Consumer Goods (FMCG) volumes, according to Nielsen, a well-known market research agency. Nielsen says that an analysis of retail audit data shows that there has been a noteworthy change in consumer purchase patterns of FMCG items.
Sales volume increase/decrease-
Jan-July '09 vs Jan-July '08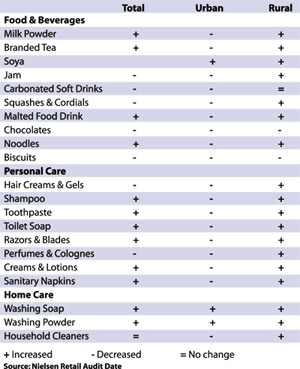 "This change appears to be linked to both economic circumstances and marketing activity and poses the question whether this would be an emerging trend that would require companies to reconsider their marketing and distribution strategies, or a temporary phenomenon that would only require tactical corrections to be made," it said in data revealed to the Sunday Times FT.
The FMCG basket is made up of food and beverages, personal care products and home care products. Through its Retail Audit service, the Nielsen Company tracks retail sales of about 50 FMCG products month after month using a carefully selected and statistically validated sample of about 3,000 retail outlets.
The sales data from this sample is extrapolated to Sri Lanka's 180,000 general trade retailers in order to determine the total volumes purchased by Sri Lankan consumers. The retailers covered include grocery shops as well as eating and drinking outlets, pharmacies and other FMCG selling outlets. The performances of many of the country's leading brands as well as new product launches are monitored and assessed via retail audit data, and this product is a widely used tool in marketing decision making. The data shows that:
FMCG consumption is driven by rural sector
Agro sector growth in economy has given rural consumers more spending power
Urban consumers is cutting down
Nielsen says at a broader national level this change poses the question whether Sri Lanka is breaking out of the traditionally established economic development model of urban centered economic growth filtering to rural areas, and instead moving to one-of rural centric growth. The increasing dependence on the rural sector for volume growth for leading FMCG categories can be seen in the table.
Both the economy and marketing activities have caused this shift. For the last 1½ years GDP growth has been highest for the Agriculture sector. Record rice harvests as well as government policies favouring rural development and increasing employment in agriculture has resulted in rural consumers entering into various FMCG categories.
Marketers have also introduced more affordable (smaller) packs which have made it affordable for rural consumers to use many categories for the first time, Nielsen said. On the other hand the hard pressed urban consumer is stretching product usage as much as possible and trying to use less for a longer period with some even giving up using non essentials.
While rural growth has prevented a decline in sales, companies are surely looking forward to the day when the urban sector starts reviving and urban consumers revert to their high spending ways, the agency said.