Sharks! No it is not a bloody attack but a curious peep at the strange looking "thing", wondering what has invaded their world. Then a flick of the tail fin, off goes the inquisitive one, but not too far away, to be joined by its siblings and cousins.
For Dr. Terney Pradeep Kumara, it was a fascinating and unforgettable encounter of the close kind. An encounter that he was unwittingly able to film – which he believes is a first of wild sharks off the coast of Sri Lanka.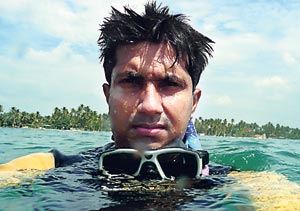 Dr. Terney Pradeep Kumara: An expedition he'll never forget
"I didn't see the shark coming," says Dr. Terney, Head of the Department of Oceanography and Marine Geology of the Ruhuna University, who with several others was underwater close to Pigeon Island off Uppuveli, Trincomalee to document coral cover and biodiversity.
Engrossed in taking underwater footage of coral cover, on a three-day expedition from August 28, he was "shocked" to see through the viewfinder of his camera, up close, just two metres away, a beautiful blacktip reef shark.
Such was his amazement at the 1.5-metre long shark crossing his path that a sudden movement in his excitement of "capturing" the sleek creature on camera made it disappear in a flash of speed.
"Wild sharks have been filmed elsewhere in the world, but I don't think anyone has done it in Sri Lanka at such close quarters," says Dr. Terney who then followed deeper, "covered" by his other team members in case the sharks turned aggressive. He was vulnerable, having only the camera in his hand. It was then that they sighted a school of about 10 sharks. "Although the black-tip reef shark is not usually aggressive, something like a sudden movement or disturbance could trigger aggression," he says.
"The sharks seemed to be observing us. Two or three would encircle us and then swim away. The group also had babies with them," says Dr. Terney, who has swum with sharks before at the Bar Reef off Kalpitiya. He believes the sharks he spotted off Pigeon Island had made that area their territory.
His expedition which was organised by Prof. Ruchira Cumaranatunga of the Ruhuna University, included team members Lecturers Anura Upashantha and Pandula T. Kirindearachchige and Technical Officer A.H. Ruwan Samantha. They were supported at ground level at Pigeon Island by Capt. Y.N. Jayarathne, Lt. Commander Mahesh de Silva and Lt. G.V.D. Dharshane of the Navy.
Describing the blacktip reef shark, the scientific name of which is Carcharhinus melanopterus, Dr. Terney says it has distinctive black markings on the ends of its fins. It has a white streak on its side, a blunt snout and long, thin serrated teeth to enable it to feast on reef fish.
"It hunts in small packs during the day," says Dr. Terney, explaining that it was very close to noon that they came upon the sharks on those two memorable days of August 29 and 30.
Going into detail about the shark's teeth, he says they are located in rows that rotate into use as and when needed. The first two rows come in handy when catching prey, he explains, pointing out that a nip from those razor-sharp teeth could be quite nasty.
Interestingly, during courting time, according to Dr. Terney, there is pairing, with an ardent embrace where the male grasps the female's pectoral fin between its teeth. "It mates belly to belly and the litter is usually 2-4 pups."
Unfortunately, the blacktip reef shark is being captured on a large scale for delicacies like shark-fin soup, laments Dr. Terney, adding that they are also hunted for their liver, as a source of oil.
The blacktip reef shark has been spotted all around Sri Lanka, not only off Trincomalee but also Tangalle, Kirinda, Polhena in Matara and Hikkaduwa in the south, Kalpitiya on the west and even Mount Lavinia, close to Colombo.
Shark sightings are an added bonus to boost tourism, says Dr. Terney, adding however, that there should be strict guidelines how and what depth to approach the blacktip reef shark, what distance to maintain from them, not to frighten them or feed them.
For this marine biologist the encounter with these giant creatures has simply "been an honour".