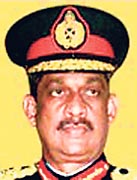 Gen. Fonseka
The Joint Operations Headquarters (JOH) which was the unified apparatus of the Army, Navy, Air Force and Police will cease to exist by that name.
The Government has re-named the body as the Office of the Chief of Defence Staff or OCDS.General Sarath Fonseka functions as the Chief of Defence Staff.
The re-designation of the apex security organisation came as security establishments in the country were grouped into six different zonal units. They are Security Forces Headquarters in Jaffna, Mullaitivu, Kilinochchi, Wanni, East and South.
The Security Forces Headquarters, South is the successor to the former 11 Division of the Army.