KABUL, Sept 12 (AFP) - British commandos who rescued a Western reporter from his Taliban kidnappers left behind his Afghan colleague's body because they were coming under heavy fire from militants, NATO said Saturday.
British-Irish journalist Stephen Farrell escaped unharmed in Wednesday's dramatic airborne operation, but his colleague Sultan Munadi was killed in the crossfire. A British soldier and an Afghan woman and child also died.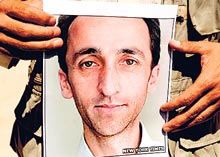 An Afghan man holds a photograph of Afghan journalist Sultan Munadi at his grave in Kabul. AFP
The men were in northern Kunduz province reporting from the site of a NATO air strike on insurgents who had hijacked fuel trucks. Scores of civilians were believed to have been killed in the air strike.
Farrell is a correspondent for the New York Times, and Munadi, formerly a journalist in Kabul, was home on holiday from studies in Germany.
In a statement, the International Security Assistance Force (ISAF), under NATO, said during the operation in the early hours of Wednesday "an extensive firefight occurred between the insurgents and the military forces".
"Early on in the exchange of fire, a British service member was killed in close proximity of the military aircraft he had extracted from," ISAF said.
"After Mr Farrell was found by our forces, the death of Mr Munadi was confirmed. "Under constant fire from the insurgents and to avoid receiving more casualties, the military forces extracted from the site," it said.
The treatment of Munadi's bullet-riddled body has caused anger among his family -- who retrieved it themselves for burial -- and Afghan journalists who accused foreign forces of having different standards for Afghans and Westerners.