WASHINGTON, Sept 11, (AFP) President Barack Obama vowed Friday to renew the battle against Al-Qaeda as he marked the eighth anniversary of the September 11 attacks in 2001 amid rising public anxiety over the Afghan war.
Obama lamented that passing time had not dulled the pain of the loss of nearly 3,000 lives in a "terrible instant," as he led national commemorations of the world's worst terror attack for the first time as president.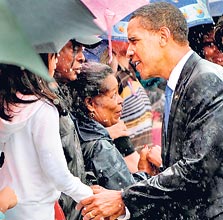 Barack Obama greets victims' relatives and Pentagon staff during a ceremony on the eighth anniversary of the 9/11 attacks. AFP
"Let us renew our resolve against those who perpetrated this barbaric act and who plot against us still," Obama said at a ceremony at a memorial at the Pentagon military headquarters, which was hit by a hijacked plane.
"In defence of our nation, we will never waver," Obama said on a rainswept day so different from the crisp September morning when Al-Qaeda hijackers showered death and destruction on New York, Washington and Pennsylvania.
"In pursuit of Al-Qaeda and its extremist allies, we will never falter,"said Obama, who has taken a strategic decision to escalate the increasingly unpopular war against the Taliban and Al-Qaeda remnants in Afghanistan.
The president, who opened a day of national ceremonies by observing a moment's silence at the White House, said that "eight Septembers have come and gone" since the attacks, but grief still lingered.
"No turning of the season can diminish the pain and the loss of that day.
No passage of time and no dark skies can ever dull the meaning of this moment."Locked in a fierce partisan struggle with his political opponents on issues like health care, Obama also recalled the unity and common purpose that took over America in the days after the attacks.
"On a day when others sought to sap our confidence, let us renew our common purpose," he said. "Let us remember how we came together as one nation, as one people, as Americans, united not only in our grief but in our resolve to stand with one another, to stand up for the country we all love."Obama spoke to a crowd of relatives of the 184 people killed at the Pentagon when a hijacked airliner turned one side of the building into a fireball, and laid a wreath at the memorial.