The advertising industry in Sri Lanka is looking to different communication strategies and opportunities to rebound in the post war era after the market suffered tough conditions from the global economic crisis and the downturn in the domestic economy. At a press briefing to mark the 10th anniversary of Leo Burnett Solutions Inc. in Sri Lanka this week, Managing Director Ranil De Silva described the first half of 2009 as 'very tough' but said the agency has been restructured to meet future challenges.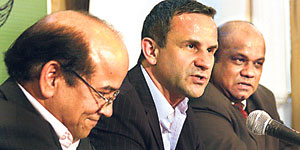 From left - Arvind Sharma, Jarek Ziebinski and Ranil De Silva
"I am sure the new Sri Lanka, after our recent success in the war promises an optimistic future for the country," Mr. De Silva said. "We need to be well poised to fuel the country and its economy to make the best of the opportunities that arise from the positive outlook for the country's future." President of Leo Burnett Asia Pacific Jarek Ziebinski said revenue has been shrinking for client companies. Leo Burnett also recorded a 5% to 6% decline in revenue in 2009 so far compared to last year. However, Mr. Ziebinski said the company is focusing on bringing more value to clients by finding opportunities in difficult times. He added that Asia is in a better situation than Europe in combating the effects of the global crisis. "This is the part of the world that will walk out of the crisis and the global recession first," he said.
Mr. Ziebinski added that Leo Burnett is focusing on shopper marketing (reaching customers through various forms from kiosks to ATM machines) and digital marketing to build client businesses. The company is also focused on managing the Asia Pacific region as one company in which Sri Lanka will be linked closer to its Indian operations. "Sri Lanka is one of the smaller offices but it is treated with equal importance," he said.
Chairman of Leo Burnett South Asia Arvind Sharma, who has been closely associated with the local office since its inception, said there has been enormous progress in creative standards in advertising over the past decade in Sri Lanka. There has been a shift from print advertising to television advertising which is where over 70% of money on advertising is spent, he said. Mr. Sharma added that agencies have also moved into a whole range of communication activities such as public relations.
Today, Leo Burnett Sri Lanka is represented by a diversified offering with several specialized units comprising Leo Burnett, Starcom Worldwide which is the country's first ever international media company, Arc Worldwide Sri Lanka.
Arc Worldwide is a specialist communications company offering communications competencies in digital media, relationship marketing, public relations, retail branding, events and activations.