NEW YORK - When American politicians are confronted with a thorny problem in their home town, they tend to do the most predictable thing in politics: throw money at it.
The United Nations, on the other hand, has its own home-made remedy: if you want to resolve a global economic or social problem, hold a summit meeting of world leaders.
Last year, there was a summit in Qatar to discuss financing for development, and more recently, the General Assembly held a summit in New York to discuss the global financial meltdown. But both were poorly attended by world leaders.
Come September 22, the UN is hosting another mega talk fest: this time on climate change. The logistics of the upcoming summit are being geared perhaps to ensure the participation of one world leader: US President Barack Obama. But he is still to commit himself.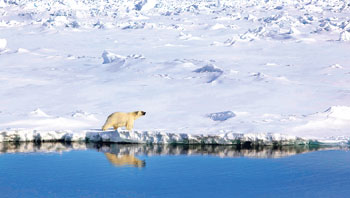 A polar bear walks along the edge of 'the ice bridge' in the Robeson channel, near the border between Greenland and Canada. Greenpeace and leading climate scientists are in Greenland for a 3 month expedition using their icebreaking ship the Arctic Sunrise to gather climate change data for the Copenhagen climate summit in December 2009. Reuter
Meanwhile, nobody is willing to predict whether anything will come out of this climate change summit -- judging by the tough stand taken last month by India and China on the emission of green houses gases in their respective countries.
They are asking Western nations to heal themselves before prescribing a heavy dose of medicine to the world's developing nations. The negotiations remain stalemated. And a UN summit is not expected to break that deadlock -- unless there is a political miracle.
At a media briefing last week, a senior UN official said Secretary-General Ban Ki-moon, who is the driving force behind the climate change summit, is expecting the high level meeting to lay "a strong and necessary foundation of trust among leaders."
But do you need a summit to build that trust -- particularly when most leaders would not even meet each other, inside or outside the UN building, except those participating in interactive sessions? However, even if they do, they would be more interested in bilateral issues than discuss the bigger agenda of climate change.
Since the Children's Summit in New York in 1990 and the mega Earth Summit in Rio de Janeiro in 1992, there have been dozens of similar gatherings around the globe: on human rights, population, social development, habitat, women, financing for development and the highly-touted Millennium Development Goals (MDGs).
But most of them have been glorified talk-fests and/or exercises in futility. When world leaders attending these international gatherings give their blessings to either a "political declaration" or "a plan of action," an overwhelming majority of these heads of state or heads of government have not even read the document.
The summit declarations are usually negotiated for weeks or months behind closed doors by ambassadors or junior diplomats in coordination with their respective governments.
The Earth Summit in Rio ended with a long political declaration but with no firm commitment on funding. When former UN Under Secretary-General Gamani Corea, then a Sri Lankan delegate to the Rio summit, was asked about the primary achievement of that meeting, he famously told a reporter: "We negotiated the size of the zero."
The Rio summit was succeeded by a follow-up summit in 2002 in South Africa. This trend in "review conferences" -- an excuse to keep talk fests going -- has continued with every major international conference (which has been followed by review conferences 10 years later).
But there are very few world leaders who are willing to expose this hypocrisy and extravagant spending. When the UN held its 50th anniversary summit in 1995, one of the notable absentees was the then Prime Minister of Malaysia Mahathir bin Mohamad.
Mahathir, who was in New York to address the General Assembly sessions a week before the anniversary, was asked by a reporter why he was boycotting the summit despite the fact that he was already in New York. The outspoken Mahathir was blunt: he could not find any justification to glorify an institution whose failures in Bosnia, Somalia and Rwanda were unforgivable sins.
Pointing out that the anniversary summit allowed world leaders only five minutes of speaking time each, Mahathir said: "In five minutes, you only have time to say how good things are. I am not good at saying how good things are when things (at the UN) are bad."
Mahathir is one of several key world leaders who, along with Cuba's Fidel Castro, who skipped the Millennium Summit, joining other non-participating heads of state from countries such as Syria, Brazil, Oman, Iraq, Libya, Thailand, Tanzania, Laos, Barbados and Kyrgyzstan.
The pronouncements made at the 50th anniversary celebrations included proposals for the restructuring of the UN system, the reform of the Security Council, the acceleration of global disarmament, the alleviation of poverty, the elimination of Third World debts and a resolution to the UN's ongoing financial crisis.
But almost 14 years later most of these proposals remain unimplemented for political or other reasons. As one UN observer put it: these summits are just parties for whooping it up.