In 1973 when the draconian Press Council Bill was passed in Parliament an independent English language newspaper headlined it—" Mephistopheles claims the soul"—referring to the evil spirit to whom Faust sold his soul in the 19th century German legend.
Last week this law was reactivated setting off alarm bells as to whether Sri Lanka was going back to the era of the infamous D. E.M.O' CRACY. obituary, and the cremation of the father of Truth and Liberty.
On this page today we spotlight the stinging protest by 8 media organizations including publishers and editors over the reactivation of the dreaded law, the continuing white van abduction and arrest of journalists.
Journalist was taken in van from Wattala to Kandy - ABDUCTION
Journalist and NGO employee Krishni Kandasamy, the most recent victim of media harassment, said she had worried about how her disappearance would affect her mother's health all the while she was being held by her abductors.
"My mother is in the habit of calling me at office several times a day," she said. "I knew how anxious she would be the moment she heard I had not turned up at the office. I begged my abductors to allow me to tell my mother that I was okay."
Ms. Kandasamy, a resident of Wattala, Colombo, was abducted last week by three men in civilian clothes who claimed to be policemen. She was driven to an unknown destination and questioned. When she was finally dropped off, she found herself in Kandy, from where she had to find her way back to Colombo.
She said she had stepped into the street to head to work when she was stopped by three men in a van who told her she was required to give a statement to the police. When she insisted that she had to inform her mother first, she was forced into the van and driven away.
"It was then around 8.30 am. It was around 2.45 in the afternoon when I was taken to a room for questioning. During the long drive, I had no idea where I was being taken," Ms. Kandasamy said.
Because she kept saying she had to call her mother to say she was safe, she was finally allowed to make the call, just before she was led in for questioning.
"They let me make the call from my mobile phone. I told my mother I had been taken in by the police for questioning and that she need not worry. When she asked where the police station was, I said I did not know. I was about to tell her to inform my husband when the phone was taken away from me."
Her mother then called Mrs. Kandasamy's husband, Ifam Nisam, also a journalist, and a few others, who immediately started calling police stations in the Wattala area. None of the stations said that anyone by the name of Kandasamy was being detained.
After being questioned about her work, Ms. Kandasamy was led back to the van and driven for more than two hours before being finally dropped off in Kandy.
"I told the men I had no money to take a bus. They gave me Rs. 200 and asked me to go home. I got into a bus and called my husband and told him what had happened," she said.
The police have deployed two teams of investigators to follow up on the incident, according to police spokesman Ranjith Gunasekara.
90 day detention order for astrologer - ARREST
Police have obtained an order to detain for 90 days an astrologer who predicted bad times for President Mahinda Rajapaksa. Chandrasiri Bandara who contributes an astrological column to the Sinhala weeky Iriduna was apprehended after the prediction was published in the paper's June 18 edition.
He had stated that Prime Minister Ratnasiri Wickremanayake would be made President of the country in September this year, while the Opposition Leader Ranil Wickremesinghe would become the Prime Minister of the country.
It is learnt that the police were keen to know how he had made such a prediction that slighted the head of state. The UNP has charged that the government was now attempting to control even astrologers while moving towards a dictatorship.
"We welcome the military successes but we do not approve the dictatorial acts committed on the strength of these successes," UNP General Secretary Tissa Attanayake said.
Ultimatum for Jaffna newspaper
Newspaper agents in Jaffna received an unsigned letter yesterday demanding the closure of the Jaffna newspaper "Uthayan" at the end of the month.
The letter said the agents should not sell the newspaper and the Uthayan staff should not report to work after June 30.
The matter had been brought to the notice of the army and police in Jaffna. The threat comes less than three days after some 6,000 copies of Tamil language newspapers, including the Uthayan, were burnt in Jaffna town.
This is not the time to charge, fine and jail journalists - PROTEST
Eight media organisations in Sri Lanka have called on President Mahinda Rajapaksa to reconsider the re-activation of the Sri Lanka Press Council Law under which journalists could be fined or jailed.The organisations have sent a joint memorandum to President Rajapaksa about the Government's move.
The full statement is as follows:
"It is with a sense of deep concern and disappointment that the media organisations herein under mentioned have learned of the re- activation of the Sri Lanka Press Council Law No 5 of 1973 which has the power to fine and/or sentence journalists and publishers to terms of imprisonment. A media culture cannot be based on slapping charges against journalists, fining them or sending them to jail. Instead the modern world has accepted a self-regulatory mechanism by media persons themselves as the way forward. The Sri Lanka Press Council Law has a controversial history. It was meant to have a 'chilling effect' on media freedom, which included the power, inter-alia, to send journalists and publishers to jail.
" On October 13, 1994 by Cabinet Paper No. 94.11.009, Your Excellency gave your consent to establish a self regulatory mechanism in place of the Statutory Press Council. It is our understanding that this consent was given because Your Excellency believed the Press Council which could impose penal punishment on journalists was an archaic piece of legislation and self regulation was a more democratic means of regulating the press.
"Your Excellency will remember that as Honourable Leader of the Opposition, you spoke (Hansard 2002 June 18 Col 888) for an independent and responsible press in Sri Lanka when an amendment was brought to the said Law to repeal the laws relating to criminal defamation. Your Excellency is no doubt aware this amendment was passed unanimously by Parliament. Following the passage of the amendment the Sri Lanka Press Council Law was made inoperative in or about 2003.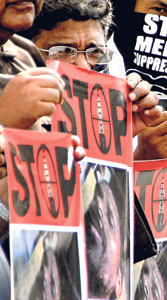 "A series of consultations between media associations in Sri Lanka and leaders of all political parties represented in Parliament had culminated in broad, bi-partisan agreement being reached that the newspaper industry would appoint a self regulatory mechanism as a 'fair exchange' for the repeal of laws relating to criminal defamation that were used as an instrument of government repression on media practitioners at the time. Consequently, media organizations united, and together with the newspaper industry, established the Press Complaints Commission of Sri Lanka, under the provisions of the Arbitration Act No. 11 of 1995, six years ago. Unlike the Press Council, the Press Complaints Commission is no financial burden to the State or the complainant.
"It is in these circumstances that the media organizations regret that the Government has reneged on its earlier commitment to support self-regulation. Furthermore, our disappointment stems from the fact that the Government did not consider it useful, or prudent, or both, to have any dialogue whatsoever with the under-mentioned media organisations, which represent the vast majority of publishers, editors, working journalists, media trade unionists and activists who overwhelmingly support the Press Complaints Commission of Sri Lanka.
However, if any problem exists with respect to the system of self-regulation, such problem(s) should be discussed and resolved immediately. But it's indeed disconcerting to note that instead of strengthening the systems of self-regulation, the Government has opted to re-activate the Sri Lanka Press Council law No 5 of 1973 which impedes media freedom in Sri Lanka.
"We, the undermentioned media organisations urge the Government to reconsider this ill advised decision and have a dialogue with us, the stake-holders to promote self-regulation as part of media culture in the interest of democracy and a responsible and free press in Sri Lanka.
In view of the public importance of this matter we will be releasing this letter to the media."
Sri Lanka Working Journalists' Association,
Sri Lanka Tamil Media Alliance
Sri Lanka Muslim Media Forum
Federation of Media Employees' Trade Unions
South Asian Free Media Association (Sri Lanka Chapter)
Free Media Movement
Newspaper Society of Sri Lanka
The Editors' Guild of Sri Lanka
This must stop: SLPI
The Sri Lanka Press Institute yesterday said it was deeply disturbed about the re-appearance of the dreaded white van to abduct journalist Krishni Ifham (Kandasamy). She was bundled into the white van outside her mother's Wattala home and driven apparently to Kandy by three people (the driver and two others) who she believed were policemen as they told her they wanted a statement from her.
This young mother of two who works for the Inter News, a media development institution, had at the end of her long ordeal been asked some questions about her previous employment in the Panos office in Colombo. She was then dropped off at the Kandy bus stand with Rs. 200 bus fare to get home to Wattala, a statement from the SLPI said.
She first lodged a complaint with the Wattala police and thereafter at the Kiribathgoda police station as requested by the police, as the area she lives in comes under the jurisdiction of the latter.
"The SLPI has no quarrel with the journalist, like any other citizen, being questioned by a legitimate law enforcement agency in connection with any investigation that is underway. If this was the case, she could have been requested to report to a specified police station or even taken there with a chaperone, and any questions that needed answers asked and a statement duly recorded, the SLPI said.
But why a white van and, presumably, a drive to Kandy? The victim does not know exactly where she was taken because there were curtains on the van and she could not see where it was heading. She presumes it was Kandy because she was eventually dropped off at the Kandy bus stand, the Institute said.
According to the SLPI statement Ms. Ifham says she was in no way harassed, was given a bun and a sachet of milk and questioned in a civilized manner. No statement, however, had been recorded. As this is being written, nothing further has been heard about this matter and there had been neither an admission nor denial of the suspicion that an agency of the state was involved.
Other more serious cases including the killing of Sunday Leader editor Lasantha Wickramatunga followed by an assault on Rivira editor Upali Tennakoon, and more recently, assaulting and breaking Lake House journalist Poddala Jayantha's leg, remain unsolved. There is a strong perception both locally and overseas that the harassment of journalists bears a State imprimatur. Such will be the general belief until it is proved otherwise, the statement added.
"We stress with all the emphasis at our command that this must stop. If an agency of the State is in fact involved, those responsible must be brought to account. If not, whoever is engaging in such actions is clearly intent on falsely implicating the State and must be urgently brought to book," the SLPI said.
"The war against terror is now thankfully over. But there have been too many incidents involving journalists to discount an attempt at creating a fear psychosis in the media and preventing the airing of subjects that may be unpalatable to some in authority. This must stop," the SLPI said.