The police department plans to complete the opening of all police stations and police posts in the Wanni area before the end of the year as part of the government's plan for the restoration of civil administration in the area.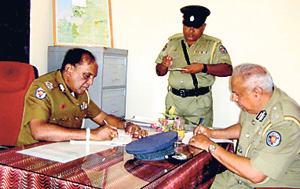 A police station was opened at Vidithalativu in Mannar yesterday
Senior Deputy Inspector General of Police (Administration and STF) Mahinda Balasuriya told 'The Sunday Times' -17 police stations would be opened along the A 9 Jaffna – Kandy Road and the A 32 Road from Mannar to Pooneryn. This would be in addition to police posts.
The main headquarters is to be set up in Kilinochchi where the DIG, SSP and ASP divisions will be set up. An SSP division will be set up in Mullaitivu.
Two DIGs have already been appointed to the Wanni area: Wanni Division (west) – Nandana Munasinha who will be overseeing the Vavuniya and Mannar areas and the other Wanni Division (east) Deepal Dalapadthu who will be overseeing the Kilinochchi and the Mullaitivu areas.
He said a number of Tamil-speaking police officers from the east have already been selected to be deployed in the north and others with Tamil language training will also be deployed in the area.
He added STF assistance would be sought to help in the policing the area and police stations would be set up along the A9 and the A 32 roads. Police will be resuming full civil activities including traffic duties soon as civilians return.
DIG Balasuirya said, as in the east where the police assisted people to resettle by helping them to clean up wells, rebuild houses and build roads, they planned to assist the incoming IDPs as they came in.
He said they would join the armed forces in the task of assisting civilians to resettle in their homes.