A massive racket where agriculture officials had allegedly cooked up accounts and robbed fertilizer (pohora) meant for farmers has been bared with investigations revealing that the highly subsidized fertilizer had been issued to even dead farmers at Andiyagala in the Anuradhapura district.
A. A. Wickremasinghe, Agrarian Services Director in charge of investigations, said records showed that fertilizer to the tune of Rs. 2.8 million had been issued in the names of dead persons while in some cases forged receipts had been issued.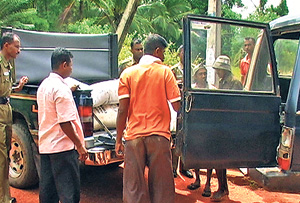 Detectives loading the bags of fertilizer they recovered from the abandoned house (pic on below) onto police vehicles.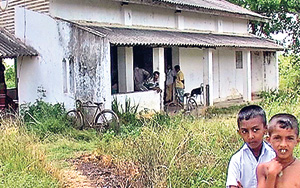 As a result of this racket, several farmers had not received fertilizer at the subsidized price, he said.
The government sells a bag of fertilizer at Rs. 350. Its market price is, however, Rs. 2,000 or more. Farmers are required to sign a form before they obtain their quota of subsidized fertilizer.
Police said they believed high officials were also involved in the racket and hoped their names would be revealed as the investigations progressed.
At the core of this alleged racket is the Andiyagala agrarian centre which also issued fertilizer to farmers from the nearby Sadaragama village. Investigations have revealed that several illiterate farmers had been issued their quota without getting their thumb prints on the form.
When asked by the investigators, officials manning the centre said they ran out of ink used for thumb prints. Andiyagala farmers said the racket came to light when they asked the officials why they were not distributing some 122 bags lying in the centre. According to the farmers, the officials had said they were to be issued to the farmers of an adjacent village and they were awaiting transport.
Unconvinced by the answer, the Andiyagala farmers then organised a vehicle to take the bags of fertilizer to the adjoining village. Manjula Siriwardene who organised the transport said that while the bags were being transported, an official told the driver to unload 11 bags at his home. Another official told him to unload the rest at an abandoned house. The driver was given five bags, he said.
Manjula said he brought this incident to the notice of Agrarian Services Department officials who later lodged a complaint with the Galkiriyagama police. Following this complaint, Agriculture Minister Maithripala Siriesena appointed a special investigating team headed by Agrarian Services Director A. A. Wickremasinghe.
One agriculture official was arrested and remanded till June 24 while Police later recovered the bags of fertilizer hoarded in the abandoned house and in the house of the agriculture official.
Investigators said they believed similar rackets were going on in several other fertilizer issuing centres as well.