SEOUL, Saturday (Reuters) - South Korea's former President Roh Moo-hyun, hounded for weeks over his links while in office to a widening corruption scandal, appears to have jumped to his death in the mountains near his home on Saturday, a top aide said.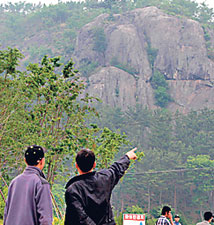 A man points to a mountain where former South Korean president Roh Moo-Hyun jumped to his death near his private residence at Bongha village in Gimhae, about 450 km southeast of Seoul. (AFP)
Local media quoted a note left by Roh which seemed to confirm his intention to commit suicide, asking for his body to be cremated and saying that, alive, he would only be a burden.
The 62-year old former human rights lawyer, whose five-year term ended in February 2008, had in recent weeks become embroiled in a mounting graft inquiry,