NEW DELHI, Saturday (AFP). Indian Prime Minister Manmohan Singh distributed key cabinet portfolios on Saturday after the Congress party's resounding victory in national elections.
Singh named outgoing foreign minister Pranab Mukherjee, 73, regarded as one of India's canniest politicians, to the finance ministry to steer the revival of the economy which has slowed as a result of the global financial crisis.
Singh brought in a new face to the cabinet as external affairs minister -- Somanahalli Mallaiah Krishna, 77, a former chief minister of southern Karnataka state and party veteran to guide India's foreign policy during a period of heightened tensions with neighbouring Pakistan.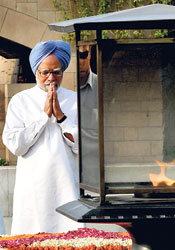 Indian Prime Minister Manmohan Singh pays tribute at the memorial to the Father of the Nation Mahatma Gandhi at Rajghat in New Delhi. (AFP)
Palaniappan Chidambaram, seen as having overhauled India's security in the wake of the Islamist attacks on Mumbai last November that left 166 dead, will continue to head the home ministry, a government statement said.
A.K. Anthony will retain charge of the defence ministry, said the statement, which added the new parliament would convene June 1.
Sharad Pawar will keep the agricultural ministry while Mamata Banerjee will serve as railway minister.
Both Pawar and Banerjee are key regional allies in the Congress-led coalition which won 262 seats in the 543-member national parliament, just 10 short of the 272 needed for a working majority.
Singh, a 76-year-old, soft-spoken economist, is the first prime minister since the country's post-independence leader Jawaharlal Nehru to be returned to office after completing a full term.
"Portfolios of other ministers will be announced later," a government spokesman said without elaborating.
Congress had campaigned hard on a poverty-alleviation platform for India's rural millions, and voters also responded to the image of Singh as a steady, pragmatic leader capable of steering the country through the economic downturn.
The alliance quickly garnered pledges of support from independents and others to take its voting strength to 322.
But a row over cabinet positions between the Congress and a key southern coalition ally, the DMK, resulted in Singh finalising a shorter list of ministers with more expected to be sworn in next week.
Mukherjee, who was finance minister in the early 1980s, served as acting finance minister after Chidambaramm was assigned to the home ministry.
When presenting an interim budget earlier this year, Mukherjee said India would have to up its spending to stimulate the economy, expected by the central bank to slow to six percent this fiscal year -- the weakest since 2003 -- from 6.5 to 6.7 the previous year.
Before the worldwide slump hit, India's economy had been growing by around nine percent annually for several years. Frequently described by colleagues as "Mr. Reliable," Mukherjee has been a regular face in successive Congress governments since 1973.
Home Minister Chidambaram, 63, a Harvard-educated lawyer, is known for his sharp mind and efficiency. "He inspires a lot of confidence as home minister," said Vinod Mehta, editor of the weekly Outlook magazine.
Meanwhile, Krishna is best known for building Bangalore into an informational technology hub of international repute.
"He may lack hands-on experience in foreign affairs but he brings a lot of ministerial experience and gubernatorial gravitas to the job," said strategic analyst C. Uday Bhaskar.
"The working of the Indian foreign ministry is institutionalised to a great extent so his experience should not be a handicap. He will grow in the job."