A novel solution to the human-elephant conflict in Sri Lanka -- under which chena cultivators, the worst enemies of these majestic creatures, are being mobilized for their conservation in a pilot project in the south of the country -- hit the world's centre-stage last week with the "mastermind" being awarded a top grassroots nature conservation prize.
At a colourful ceremony on Wednesday night, Dr. Prithiviraj Fernando, Chairman of the Centre for Conservation and Research (CCR) who has been studying elephants for many years, was honoured with the Whitley Award along with a grant of £ 30,000 donated by the Shears Foundation.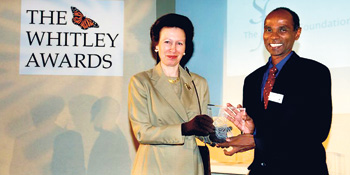 Dr. Prithiviraj Fernando receiving the award from Princess Anne and (below) elephants very close to human habitation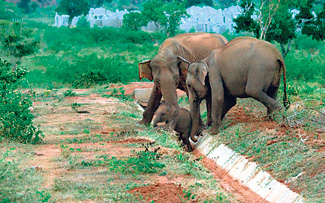 The award "recognizing his efforts to protect wild Asian elephants by better balancing their need to range outside of tight 'protected zones' with the needs of paddy farmers whose lives can be devastated by a single crop raid" was presented by Britain's Princess Anne at the Royal Geographical Society in London, before an audience of 400 distinguished guests including leading environmentalists.
"This award really is a tribute to the people of Sri Lanka, whose benevolent attitude towards wild animals has enabled the survival of over 5,000 elephants amidst 20 million people in a land area of only 65,000 Km2," said Dr. Fernando in an e-mail interview with The Sunday Times from London.
"It also recognizes the progressive outlook of the Department of Wildlife Conservation (DWC), Sri Lanka, which has been an equal partner in the collaborative research conducted by CCR, and the CCR team of scientists who have untiringly worked towards conservation over the past two decades," he said.
Commenting on Dr. Fernando's success, Edward Whitley who founded the Whitley Fund for Nature (WFN) and chaired the judging panel has said: "The aim of the Whitley Awards is to find and support conservation scientists whose vision, passion, determination and qualities of leadership mean they are achieving inspirational results in conservation. They are helping to build a future where nature and people co-exist in a way that benefits both. In Pruthu's case, we were especially impressed that his project is using an innovative science-backed approach to explore new ways for elephants and people to live together."
The Gold Award from WFN, the UK-based charity which administers the international awards programme and £ 60,000 went to a health and conservation programme in Uganda's Bwindi Impenetrable Forest for villagers and their wildlife neighbours, the endangered mountain gorillas.
The other 2009 winners, in addition to Dr. Fernando, selected from among 100, were projects in India (to reduce conflict between people and wildlife including tigers); Kenya (to improve understanding of the vital role insects play in crop pollination and encourage more sustainable methods of agriculture); Thailand (to reduce conflict among people, wild elephants and domestic cattle); and Bulgaria (to offer greater protection to thousands of wild migratory birds).
In a double winning streak for Sri Lanka, conservationist Ravi Corea secured a £ 10,000 Associate Award, once again to resolve the human-elephant conflict by improving land use practices in areas shared by wild jumbo herds and people.
"The aim of the Whitley Awards is to identify the world's most dynamic conservation leaders and support them in practical work that benefits both wildlife and local communities," stated a press release issued by WFN from London, adding that the first award was given in 1994 to a single winner. To be considered for a Whitley Award, entrants need to display both a strong track record in science-based conservation work and a viable plan for taking their work further.
That is what Dr. Fernando, a medical doctor who is now pursuing his passion for elephants and their conservation, has been striving to achieve, working closely with the DWC. The efforts to get seasonal cultivators in the south of Sri Lanka involved in conservation were reported by The Sunday Times way back on March 4, 2007.
These efforts came in the wake of a 'National Policy for the Conservation and Management of Wild Elephants' largely driven by scientific research findings, formulated by the DWC in 2006, in coordination with a committee of scientists, academicians and managers, under the auspices of the Ministry of Environment, The Sunday Times understands.
"The new policy takes a practical and science-based approach to elephant conservation and mitigation of the human-elephant conflict and envisages maximizing the area elephants can use, through integrating existing land-use practices beneficial to elephants with elephant conservation. It also hopes to reduce the impact of the human-elephant conflict on people who share a habitat with elephants. This approach has the potential to find a long-term solution to the human-elephant conflict and conserve elephants," Dr. Fernando adds.
All about the project
Elephants like disturbed or secondary habitats such as seasonal cultivations and cannot live in dense forests because they cannot reach the thick canopy to get their food while the undergrowth is too sparse for their fodder, scientific research and knowledge garnered over the years have revealed.
With villagers already engaging in seasonal cultivations in areas where there are elephants in the south, the experiment that is on there is attempting to prove that human and jumbo can co-exist, it is learnt.
The seasonal cultivations last about four to five months with crops cultivated around mid-October with the harvests gathered in January-February. The elephants, however, have a lot of food outside the cultivation areas in the rainy season when crops will be protected against destruction by erecting a simple electric fence, The Sunday Times understands. After the harvest, the cultivation areas are left to the elephants while the cultivators go in search of manual labour as they do routinely.
This pilot project hopes to move away from programmes where elephant conservation and mitigation of the human-elephant conflict has been based on restricting elephants to protected areas, it is understood.
"Research has shown that this approach is fundamentally flawed," says Dr. Fernando explaining that the extent of the protected areas that the elephants are to be restricted to is far less than the area from which elephants have to be removed. "Two-thirds of elephants live outside DWC-protected areas even today."
Another factor that the research has shown is that most protected areas to which elephants are restricted, are sub-optimal for them because they are mature forests and are already at their carrying capacity for elephants. Adult male elephants mainly responsible for the conflict cannot be easily limited to protected areas and their translocation often leads to an increase in the human-elephant conflict because they either return to where they were captured from or range over wide areas looking for a way back, according to Dr. Fernando.
Meanwhile, elephant herds composed of females and young cause far less conflict, but suffer very high injury and death when restricted to protected areas. Attempting to force more and more elephants to protected areas and restricting them there, results in the escalation of the human-elephant conflict and death of elephants, the research had found.