In the past few weeks I have been reminded of the nation's fascination with the leopard. This is no surprise given that it is stunningly beautiful, the island's top predator and only big cat.
Together with my wife I have been studying the species here since 2001, but close proximity to a subject can bring with it a lack of perspective and it has taken the immense interest garnered by the recent sad death of a black leopard near Sinharaja to shake me from my lassitude regarding remembering the importance that people attach to this magnificent carnivore while also recognizing the widespread misinformation that exists regarding its ecology and behaviour. Incorrect information is potentially more damaging to the future conservation of the species than a lack of information and as such I wish to offer some opinions, clarifications and ideas.
Having addressed a number of issues related to the genetic status of the species in a couple of published responses to the commotion surrounding the black leopard (The Sunday Times 08/03/09 and Daily Mirror 10/03/09) I will not re-trace those steps. However it is worth re-iterating the basic context within which the leopard exists, generally and here in Sri Lanka.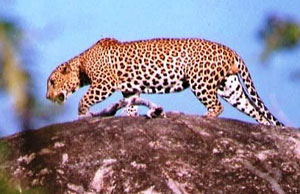 Young male leopard on top of Kotigala rock in Yala, Block I. Sub-adult and young adult male leopards are the most visible sex and age classes.
Leopards are the most geographically widespread large felid, existing throughout sub-Saharan Africa; in pockets in Iran, Israel, the Saudi peninsula and the Caucasus; through Pakistan, India and China; in far-eastern Russia; and throughout tropical south Asia. Sub-Saharan African leopards are considered "of least concern" from a conservation perspective but Asiatic populations are all considered "endangered" and listed under the Convention on the International Trade in Endangered Species' (CITES) Appendix I, barring all trade in the animals and their parts. Paradoxically, the Sri Lankan IUCN has listed the local leopard as "vulnerable" (one category better off than "endangered") in their latest Red Listing (2007).
Extremely adaptable, solitary carnivores, leopards can subsist on a wide range of prey and live in close proximity to humans. They are presently distributed throughout Sri Lanka with the exception of portions of the densely populated southwestern wet zone and thin coastal strips along the East, their range encompassing a variety of habitats including montane forest, tropical rainforest, dry evergreen forest and arid zone scrub. Leopards exist even outside protected areas using plantation lands, riverine forests and "empty" or scrub land to move through and occasionally reside within. Despite this wide distribution, the Sri Lankan leopard (Panthera pardus kotiya), one of eight distinct genetic sub-species (Miththapala et al. 1996), is under increasing threat from habitat destruction, forest fragmentation, trapping and hunting. The black leopard recently found ensnared near Deniyaya, the young female shot near the Yala main gate three weeks ago and the animal shot in Lunugamvehara the following week exemplifies this type of threat, one that is clearly all too common.
Sri Lanka is home to the only leopard population known to have evolved as the top predatory carnivore in its ecosystem, having been isolated from competition with other large carnivores at least since Sri Lanka split off from the Indian sub-continent --5,000-10,000 years ago. Evidence indicates that the Sri Lankan lion (Panthera leo sinhaleyus Deraniyagala, 1939) became extinct in the region ca. 37,000 years ago and the most recent tiger fossil evidence is dated to 16,500 years ago. As the lone top carnivore in the system, the Sri Lankan leopard could have some behavioural and/or ecological traits different to other populations undergoing competition with dominant carnivores (ie. tigers, lions, hyena clans and dhole packs).
Our two-year study in Yala National Park indicates that the Block I population lives at a relatively high density, exhibits fairly small home ranges, are more active at night than in the day and are seen in social groups more often than other populations – typically mothers with cubs and courting pairs. The high density and small home ranges, while consistent with expectations given a lack of dominant competitors, appears influenced more by high prey availability whereas primarily nocturnal activity is typical of leopards, with diurnal populations (active during the daytime mainly) only occurring where their preferred prey is also diurnal (e.g. South Africa's Drakensburg Mountains).
A troubling statistic that I have repeatedly seen is that Yala Block I (140 km²) has a leopard density of 1/km². This would mean 140 leopards in the Block, an absurd notion to anyone who regularly visits the park and especially so given that the highest recorded density estimates in the world are 0.23/km², from Zimbabwe (Smith 1977) and South Africa (LeRoux and Skinner 1989). The troubling aspect is not just that it is quite clearly incorrect, but that it has been unquestioningly embraced and repeated by many who, upon reflection should know better but seem to be blinded by the desire to unnecessarily overhype the leopard in Sri Lanka.
Promoting this incorrect density estimate indicates that visitors are practically tripping over leopards in Yala (which clearly they are not) and provides a completely inflated impression of their numbers and thus their conservation status. It is this latter aspect that has potentially damaging repercussions as it can lead to a false sense of security regarding conservation management of the species. Yala Block I does have a relatively high leopard population density. Using internationally utilized standard methods we estimate the density at 0.18/km² or ~25 adult animals in Block I, one of the highest recorded densities in the world. This is remarkably similar to previous, independent estimates from Yala (Santiapillai et al. 1982). When including cubs, sub-adults and transient animals (those that are simply moving through the landscape and are not resident) - which are not typically included in density estimates - the total number in the Block is 40 -50, still a far cry from 140. When analyzed in comparison to 21 other international studies, this density (0.18/km²) falls neatly onto the curve of density estimates as determined by available prey biomass (the amount of consumable prey measured in kg/km²), again situating the Sri Lankan leopard well within the context of "typical" leopard populations.
What makes the Yala leopard population unusual is not its density, but its visibility. This is probably due to a combination of factors including a healthy population with an abundance of young animals (it is this age group that tends to most often be seen, especially young males); a lack of dominant competition which has led to a reduced need for secrecy; and habituation resulting from many years of park visitation.
Our present work, in the central hills, is focused on determining leopard distribution in this highly fragmented, human impacted region and investigating movement between often-isolated forest patches. So far we have documented leopard populations residing in close proximity to established urban centres as well as rapidly occupying re-forested estate lands. In Hantane, near Kandy, where leopards occasionally prey on dogs, we have been relieved to discover that this behaviour is uncommon. The relief is because when carnivores start preying heavily on livestock and/or domestic animals it indicates that their usual prey is in short supply, which is often the first step towards an increase in human-wildlife conflict. Instead the Hantane leopards – based on ongoing results - are preying extensively on porcupine and barking deer.
There are many unanswered questions about the leopard in Sri Lanka and more work to be done before we have a sound appreciation of its status, ecology and behaviour. Our work and that of others is helping to chip away at this rock of ignorance. Thankfully Sri Lanka is both replete with wildlife enthusiasts passionate about the leopard and the wild places in which they roam and infused with a natural conservation ethic, so hopefully there is a positive future for the conservation of this magnificent animal. However I want to stress the importance of ensuring that information is as accurate as possible before promoting that information. The tale of tiger conservation in India is a valid example of how incorrect information can negatively affect conservation efforts. Due to a poorly managed data collection system relying on too many people with not enough knowledge and a woeful lack of standardization, for years the tiger population estimates in India were over-exaggerated.
The ever-increasing tiger numbers that were quoted naturally led those involved in tiger conservation to relax, which led in turn to a diminished effort to protect individual reserve boundaries and attend to some of the most pressing threats including a thriving trade in poached skins and bones.
Upon recent realization that numbers had long been overestimated it was too late for several reserves where tigers had already been extirpated; this has caused panic in the conservation community. While the situation for leopards in Sri Lanka is not nearly so dire, the lesson can still be appreciated and hopefully learned, to ensure that we never venture down that same road.
(The writer is a Zoologist, Principal Researcher/Founding Trustee of The Leopard Project Wilderness and Wildlife Conservation Trust Sri Lanka)