It is the evening visiting hour at the Lady Ridgeway Hospital (LRH) for Children in Colombo. In every ward, around each little cot, a knot of concerned relatives or friends has formed.
Suddenly, the eye falls on a young woman here or there holding a tiny infant to her breast or tenderly kissing a toddler as he snuggles into her neck. The faces of both the mothers and some of the older children are furrowed with past worry and tension lines. Although they are not surrounded by relatives, the eyes say it all……..past trauma, agony and suffering but now tranquillity and a feeling of security.
They are not alone for long. Women and men standing close to other cots walk up and have a chat with the mothers or offer an orange or a biscuit to the little ones. As we struggle to communicate, to our shame being only bilingual and not trilingual, interpreters from among the visitors and even mothers of other sick children volunteer to help us out, fielding questions from us and gently getting the answers.
Cradling her beautiful three-month-old baby daughter, Pumiya, just 20, is lost in thought, most probably wondering about her family scattered in Vavuniya due to a war not of their making. As a visitor of another child acts as interpreter, she says she has been at the LRH for six days, because the baby has pneumonia. She and the baby have been brought down from Vavuniya to the LRH after they escaped from the uncleared area.
For one-year-old Jalani too it has been a similar illness, fever, cough, cold, phlegm that has brought her and mother Thangeswari to this strange area called Colombo, they have never seen before where the people speak a language they don't understand.
But language is not important and that strangeness has gone after a few days. Jalani's big eyes and pretty smile have endeared her not only to the staff but also to other mothers.
In another ward, brother Kabishan, 4, and sister Thushani, 6, are clutching a banana and a yoghurt each. Along with their mother they have been at the LRH for four days, brought down from Vavuniya because Kabishan has been passing blood with urine. They grin at the camera and pose like professionals, while their mother explains that Kabishan is suspected to be having stones in his kidney. She couldn't leave her small daughter behind in the camp in Vavuniya so she brought her along as well.
As we chat to her with an old man taking the role of translator, a minor employee hands out two rusks and two oranges, smilingly telling the mother that these goodies are for both her children.
Everyone is treated alike and made to feel comfortable, stresses LRH Director Dr. Mahanama Rajamanthree, explaining that these patients from the Wanni are sometimes given preferential treatment because of the suffering they have undergone and the empathy felt by the staff.
Currently there are 79, all under 12, at the LRH, The Sunday Times learns, with these sick and injured children being transferred to this premier children's hospital since February 11 from Vavuniya and Anuradhapura Hospitals.
Not only these children but also their parents have suffered both physical and mental trauma, says Dr. Rajamanthree adding, "we give them a lot of empathy", amply proven when we see the little acts of kindness or words of tenderness by the doctors, nurses and minor staff.
"While treating them and giving them a high protein diet and glasses of milk four or five times a day to build up their strength, we are also trying to provide them with their basic needs such as a pair of slippers, a towel, a bedsheet and a thermos flask so that when they go back they have something to call their own," he said.
The adults come with fear and also suspicion but a day or two later all that is gone. The children sing, they run around wards, they make friends, he says adding that some of them are with their fathers, mothers or guardians, while a few are alone.
When they are cured and ready to leave, there is a stringent discharge procedure, emphasizes Dr. Rajamanthree, explaining that they are taken back to the Vavuniya Hospital and if not accompanied by an adult, handed over to someone responsible, all done in coordination between the Health and Defence Ministries.
In a little room tucked in a corner of a ward, five children and their mothers have made a home for themselves. "They were given cots but they always kept their children on the floor, so we put thick mattresses and made them comfortable," says a nurse while clicking her tongue at a baby who gives her a wide smile and then slowly manoeuvres her thumb into her mouth and shuts her eyes.
As the Director says it is like their "second home"……..a home among caring people away from the gunfire and the bombs.
What they need
The needs of the little ones now receiving treatment at the LRH and their parents who have fled from home and hearth are many.
Basic needs such as a pair of slippers, a bedsheet, a thermos flask would be most welcome from generous donors, appeals the Director.
Those wishing to extend a helping hand could phone: 011-2691521 or e-mail: directorlrh@yahoo.com
Child focus desks at camps
The National Child Protection Authority together with the Ministry of Child Development and Women's Empowerment has initiated urgent moves to set up "child focus desks" within the camp setting at Vavuniya to provide an outreach programme to deal with protection issues, child health and psychosocial support.
The prime movers of this programme are Prof. Manouri Senanayake of the Colombo Medical Faculty and child rights activist Dr. Hiranthi Wijemanne with the full support of Health Ministry Secretary Dr. Athula Kahandaliyange and NCPA Chairman Jagath Wellawatte.The child focus desks will be manned by a multi-sectoral team, The Sunday Times understands.
Medical expertise heading to the North
It is not only at the LRH that these innocent victims of circumstances have been taken into the fold, with many including the common man and woman who has contributed a packet of milk, a kilo of sugar or a bottle of water showing the displaced people in Vavuniya that they do care.The contributions that have flowed in to anyone who is collecting aid for these hapless men, women and children now living in camps, away from the vicious grip of the Liberation Tigers of Tamil Eelam, are testimony that they too are very much part of this beleaguered land.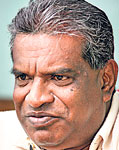 Dr. Rajamanthree
Waves of doctors and other health personnel have gone from the south, away from the comforts of their homes to rough it out to be by the side of the displaced, touching a fevered brow, comforting a young mother, attending to wounds or just giving a word of advice.
Not only top-level health personnel but even young doctors have gone up there as part of their calling, said LRH Director Dr. Rajamanthree who had just returned from a seven-day stint at Chettikulam and Manik Farm, along with the Deputy Director of the Ragama Rehabilitation Hospital Dr. G. Wijesuriya, a few more doctors and a team of nurses.
"I went with my steth, not as the LRH Director, to treat as many as possible," he says simply, adding that their team saw about 700 people working from 9 a.m. to 5 p.m. each day. "The response was immense," he says and The Sunday Times understands that many who could speak Sinhala among the displaced practically acted as the team's shadow being by their side to give of their mite to their camp mates.
Truckloads of medicines, food and safe drinking water are being provided to the displaced, he assured, adding that they were also very secure.
More and more health teams are heading that way including registrars and senior house officers in paediatrics, he added.