"It's not rock and roll," said Brendan O'Donnell as he showed me around the most impressive hotel property I have ever seen in Sri Lanka. "It's romantic." He was describing the arbour of columns and candle niches with an Indian swing bed for "chilling out" (his words, not mine) that confronted me as I tried to find the way into the Reef Beach Villa.
The entrance gate is off the road on the seaside of the railway line in Wadduwa, to the north of Villa Ocean View. Smart security guards (Reef Villa's own) welcome visitors to an amazing world that one wouldn't expect to find in this unprepossessing town 29km south of Colombo. It's a world of fantasy that begins with the drive down a narrow lane through a manicured jungle of exotic blooms inspired by Mother Nature at her most flamboyant. The extravagant foliage conceals the staff part of the villa, where vehicles park and guests alight. There are no signs directing visitors around the property, which is how I found myself confronted by an arbour wall in a miniature garden of Eden.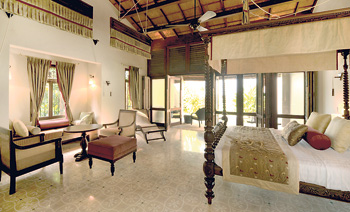 Debonair decor: A room fit for a Maharajah
When Brendan O'Donnell and his partner, Bernadette Barker, bought the three-acre beach front plot they thought it would take 10 months to build the villa. It took four years but it seems so perfect I expected the creation to have taken longer. They call it "the ultimate tropical beach villa" but my advice is to forget about the beach and instead indulge in the lavish - and, indeed, ultimate - tropical villa experience, apparently built to show what staying in style on the shores of the Indian Ocean should be like.
Reef Villa consists of just seven immense suites, each one of them so enchanting they compete for attention with the gorgeous swimming pool set in the beachside lawn where pavilions are designed for private dining. Even though there are never more than fourteen adults (OK, children are allowed too) in residence, there are two kitchens. These are under the direction of a master chef who conjures up magical dishes, even managing to make the chicken rice and curry that I sampled seem ambrosial.
But it's the accommodation that impresses most and launches Reef Villa into the stratosphere beyond the status of mere stars. No conventional grading conveys the "wow" factor that extracts gasps of appreciation from visitors. It begins with the entrance to the main villa over stepping stones through a water garden (there's a more accessible path for less agile guests). The vast snow-white marble floor of the villa's reception hall is not only cool in both the literal and jargon sense, it also exudes tropical grandeur preparing guests for the splendours to come.
A staircase that I called spiral but O'Donnell said is actually helical, leads up to two huge first floor suites. There is also a smaller suite (the Lily Pond Room) with veranda and garden courtyard on the ground floor, and four ocean suites in separate villas with verandahs or balconies.
While every suite is different, all share the same incredible, debonair décor that says emphatically: "This is fit for a Maharajah." It's also just right for affluent and discerning guests who want to feel they are comfortably holidaying by the sea and not stuck in an air-conditioned, concrete box that's all awkward angles and compromise. Of course every suite is air-conditioned but they also come with antique electric fans and ceiling fixed punkahs. Each one has a walk-in dressing room with armoires and dressing table.
The ceilings of Kerala terracotta tiles soar while hand-crafted floor tiles of a 12th century pattern are cool underfoot. Beds are antique Jacobean four posters from Calcutta and much of the furniture is based on original East India Company designs. The bathrooms are bliss, graced with Venetian mirrors and each with a bath tub hewn from a single block of granite.
Of course I've gone over the top in describing Reef Villa but it is so different, it's worth the superlatives. It's not rock 'n' roll - it's classical.
(For Sri Lankans and expat residents there is an introductory rate from Rs. 23,000 for a suite. Tel: 038 228 4442; www.reefvilla.com)