This year, Country Roads brings you Sri Lanka's first-ever 'Country-Western & Folk' themed open-air acoustic concert extravaganza headed by UK folk sensation and recording artist Astrid Brook, with featured performers and Country Roads mainstays Mariazelle, Cosmic Rays, Anno Domini and the Country Revival Band with Noel on banjo and Ranjit on harmonica as well as 2009 additions Flame and Thilan and Buskers Darlen and Leslie.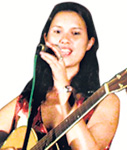 Astrid Brook
The concert will offer a serving of acoustic versions of country-western and folk classics, including popular hits by Bob Dylan, Peter Seeger, Eagles, Simon & Garfunkel and many more.
Folk singer-songwriter Astrid Brook will be a big draw with her gentle folk style. Astrid is donating part of the proceeds from her debut album released late last year to needy children in Sri Lanka through the CMF and a children's charity in Nepal, where she has played and worked as a volunteer.
Known popularly as the 'Queen of Baila', Mariazelle is a favourite amongst young and old. Her musical journey after 1977 was instrumental in creating well-known hits such as 'Rahasai Sonduru Jeewe' and 'Yowun Sihina Loke'. She is also a regular performer at Country Roads. Another feature at this year's concert, Cosmic Rays, is one of the oldest country bands in Sri Lanka. Boasting over 25 years in the industry, the band is led by Tyronne Peiris on lead vocals and guitar.
Anno Domini is well-known for their blues, folk, country and rock music while the Country Revival Band (CRB) is a mixed combination of the founders of CMF - Feizal Samath, Jury Majid and a few friends- who love to play for a cause. Assembled every year for this charity concert, their fortè is good, old traditional country music.
In addition to the fantastic line up of top country musicians, the Country Roads tribe have in store a fun-filled picnic setting, complete with pony rides, a BBQ, food and beverages stalls and games for children. Jeans and t-shirt are the preferred dress code. Great prizes are up for grabs for competitions such as beer drinking and the most authentic cowboy and cowgirl.
The Country Roads concert will be held on Sunday, March 29th, from 4.30 p.m. onwards at the Dutch Burgher Union (DBU) at Thunmulla. Tickets are priced at a nominal Rs. 300/- and will be available at the DBU (on the day of the show) and at selected Cargills Food City outlets.
The proceeds of the concert will go towards displaced children in camps in Vavuniya camps through Save the Children. The event is supported by Dialog, Cargills and SriLankan Airlines.
The Sunday Times is the media sponsor for the show.