Naureen Naqvi is enjoying the luxury of being a full-time artist. She has only been in Colombo a week but her mind is brimming with ideas and her sketchpad is filling up fast. Not surprisingly for this accomplished artist, her calendar is already full for the months ahead.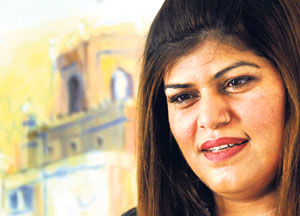 Here for a joint exhibition with Sri Lankan artist Michael Anthonisz, she is also working on her next show to be held in the US and after that one in Islamabad.The vivacious Pakistani artist is very much at home in Colombo and feels an affinity with the country and its people. Having been here three times before, first representing Pakistan at an international artists' camp organised by the George Keyt Foundation in 2000 and then subsequently when she was working for UNICEF, she has many friends here and it was through one of them that she met Mike Anthonisz. They discovered common ground in their love of old buildings and the religious undertones that colour their work and so blossomed the idea for a joint exhibition.
"We discussed the idea of having a joint exhibition three years ago, but it never really materialized until three months ago when Mike asked if we could go ahead," Naureen says. The title 'Fusion' would be an indication of not just the meeting of two painters and their work but also of how much the two countries have in common.
She feels there are many similarities between Pakistan and Sri Lanka. "We are both suffering the effects of violence. People are very kind but they are portrayed in a different way. It's peace that is missing in this part of the world and that is what people are searching for."
"I thought my paintings for this exhibition should show people here something about Pakistan, what we do there," she muses. Also the province I am living in- Punjab. We have many shrines in Punjab – it's a very spiritual place, surrounded by peace. I used to think a lot about why so many people travel from all over the world to worship there." Her paintings are spiritual she feels, she herself now increasingly drawn to Sufism - the exploration of which will form the basis of her next exhibition.
Deeply influenced by her heritage she explains that Muslim art is also related to calligraphy- the writing, the script being portrayed in an artistic way through the calligraphy and she has elements of this in her paintings.
Figures are a part, but not significant in her paintings, she says, adding that while she may paint the dancers, she looks at why they dance.
"I see beyond them I don't try to just capture the whole body- just that movement. It comes out in the splashes of colour."
How easy is it to pursue a career as an artist in Pakistan? "It's a struggle," she concedes, though in her own path she was fortunate that she was given the freedom to study art at University and even do her Masters in the subject by a supportive family.
She went on to teach art at University and also worked in Holland for a year before returning to Lahore to take up a high-level post with the Government of Punjab, as Deputy Secretary for Women's Development and later with UNICEF, her concern for women and children running parallel with her art.
These have been causes she feels strongly about - the discrimination the majority of women suffer and the devastating effects of poverty on those who have no voice- women and children.
She relates how in the course of building awareness against the hidden spectre of domestic violence, they would even take a Muslim scholar with them when they went to talk to men's groups so that any arguments about religion being the root of their discriminating attitude to women could be instantly rebutted.
Many are the awards she has received not just for her artistic prowess but also for her work in the field of women's empowerment, but for Naureen, who has just given up her job at UNICEF, her art is a journey of self-exploration, and one that is deeply woven into the fabric of her life.
"Each day I open a new window that takes me to myself," is how she sees it.