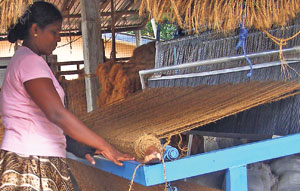 Weaving the coir mats that are laid to prevent erosion
Two sharp turns in the life of the son of Sri Lanka's most famous singer, Sunil Shantha has resulted in the creation of an innovative industry and capturing a massive market for a particular type of coir products in the US and some part of Canada too.
This is the success story of Lanka Santha and his wife Calista Rohini Santha, which could be emulated by other determined Sri Lankan entrepreneur to venture into innovative products and carve out a niche market. They had to meticulously work hard to reach the pinnacle of success.
Sunil Shantha is well known over the ages as the undisputed music maestro Sri Lanka ever had. In contrast, however he didn't want his children to show that same keenness towards music. He told them that music has no place in society and therefore to study other areas like science, engineering and technology. They therefore moved away from the father's profession and secured masters of science (degrees).
In another sharp turn in his career, Lanka Santha, at a time his industry was on the threshold of growing and catching up the market in the US for his product, virtually begged from all local financial lending organization to obtain funds but was refused. He went to the US and he started to work on his finances in operating about 14 credit cards and struggled to preserve a meagre $ 8,000. In complete contrast to Sri Lankan lending institutions, a US bank approached him and advised them not to struggle with credit card-type financing but that the bank would provide credit line up to a maximum of $150,000.
Sunil Shantha had three sons and one daughter. They were not rich, but the father stood by and assured everything possible to push his children in their studies, but taboo when it came to music.
Lanka Santha, Sunil's second son recalled that their study hall was a tin roofed poultry shed lit by a kerosene bottle lamp. Lanka Santha commenced his studies from the Dehiyagatha, Ja-Ela Junior school, moved to Christ King College, Tudella and then to St Mary's College, Negombo. Though mired in poverty the children were studious. In 1970 he moved to the University of Ceylon Peradeniya, Engineering Faculty. At university, he met Calista Rohini, who later became his wife. He passed his engineering degree in 1979.
He joined the State Development and Construction Corporation and worked at the Kotmale Dam at the initial stages of the project. In 1983 he married and the following year Rohini went to the Asian Institute of Technology and Agriculture in Bangkok to do her Masters. Lanka also joined her and got involved in his studies. They returned to Sri Lanka in 1985 and she joined the Peradeniya University while he joined RDCC, a government construction firm. In 1986, Rohini went to the US to do her PhD in wildlife. Lanka joined her in 1987 and did his Masters in Civil Engineering.
Lanka attended several Science and Engineering Trade Fairs in Georgia in the US as the couple was determined to do something of their own but unsure what. At one fair there was a product made out of coir - coconut fibre, by an Indian manufacturer marketed by a German company. The product is like cricket mating but the square holes are little bigger. He took a sample of the product and carried meticulous experiments in further improving the product.
Unlike in Sri Lanka, in the US, people are not allowed to wilfully disturb t nature and if a building is constructed or any other structure, action should be taken to prevent any erosion of the remaining earth. Earlier some products made out of polythene were used to prevent erosion of earth. They are not bio degradable. Soon it was replaced with coir products as it has two advantages - one is when the coir mating is laid it will act as a manure for the vegetation that is grown to prevent erosion and the other is while it acts as a manure, when with the growth of the vegetation, the coir mating decays.
The product ultimately manufactured by Lanka caught up in the market and with that he obtained patents in the US for his product.
By this time Lanka's family had settled down in Georgia in the US. He floated a company in Sri Lanka with another investor and set up the manufacturing plant first in Bingiriya, on land owned by the partner.
He was unable to meet the demand as he did not have enough capital and in Sri Lanka he went to all the financial lending institutions where everyone refused to accommodate him. With the financial crisis aggravating, the other partner backed off. Lanka moved out of Bingiriya and brought in his wife as the business partner and moved to Hettipola with the credit line granted by the US bank. The manufacturing company in Sri Lanka was registered as Udara Lanka.
The couple and their children are American citizens and they reside in Georgia but the coir products are manufactured in Hettipola on precise quality specifications. Some of the machines were obtained from India. The husband and wife team take turns to come to Sri Lanka once a year and stay for about one month per visit. Recently he was in Sri Lanka and The Sunday Times FT caught up with him at the Hettipola factory. In the US they floated a company by the name 'RoLanka International Inc - suppliers of erosion and sediment control products. He acts as the CEO of the company.
RoLanka developed into a multi-million dollar industry capturing a sizable market in the US and part of the market in Canada. They have been serving the market in erosion control products for the last 15 year in the US. Some of the product brands include BioD-Block -Coir Block System.
The BioD-Block is used for stream bank restoration. In soil bio-engineered stream banks in Phase 1 structured support and protection against erosion are provided by artificial means. In Phase ll - fully or partially structured support and protection against erosion comes from natural vegetation as the vegetation is grown on the coir blocks.
The objectives are to introduce BioD-Block for soil bioengineering designs which will increase the safety in the designs, show improvement of BioD-Block over existing coir fabric wrapped soil lifts and introduce various applications of BioD-Block. Lanka said, "We have the largest inventory of coir products in North America and our products are available nationwide for immediate delivery."
The factory uses coir around Hettipola and some of the coir factories that were closed earlier are now open to provide coir to this factory. They get a fair price for the supply of coir. The factory operates two shifts and around 160 mostly village women around the area are employed. Millions of money is pumped to Sri Lanka to purchase coir and for payment of salaries.
He said that people in the West are very interested in their coir products. The coir products once laid prevent erosion and in the meantime on these, plants are grown. While the plants are growing, coir mats and blocks gradually decay. By that time plants are firmly rooted and they stand as a permanent erosion control device. He said that he was lucky to obtain international patents and nobody could 'imitate our products'. He said that he now hopes to expand his coir products to Europe and surveys indicate that there is s large potential market. But to increase his products, Lanka said that they needed a similar or larger factory. He submitted his proposal to Sri Lankan authorities but he was only provided with a few acres of land from the area with an abandoned building.
He said that instead of responding to his proposal, the authorities have suggested to give them the know -how so that they could extend it to the locals. He said that he is prepared to accommodate only under licence and not otherwise.
He said that in the US there are lots of trade fairs on these products and they used to participate in them. He said that some companies from Sri Lanka too attend these trade fairs and he said that one particular company which tried to penetrate into his market, failed and is now constantly approaching him to collaborate with them.
He said that if he did accommodate this proposal the company has threatened that it would ensure there is no coir available in Sri Lanka for Lanka to purchase. While individuals and corporate entities are forging ahead and have become very successful in business and industries abroad, the government doesn't have a national industrial plan. Many entrepreneurs who ventured into new innovative areas said that at the initial stages the stumbling block has been the various government agencies.
Obstruction by the authorities was so much that some were on the verge of abandoning their projects. Most of the countries in the world are subsidizing the inputs to some extent for industrialists and farmers like India and the US. In fact Lanka told The Sunday Times FT that the authorities in US are helping them a lot and local authorities there are permitted to purchase products from minority communities even by-passing the normal tender procedures.
Helping such industrialists and business people should be the obligation of the Sri Lankan government, rather than putting obstacles and imposing various taxes on these innovative entrepreneurs.