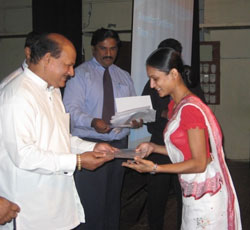 The first and only national level competition of its kind to be held in Sri Lanka, the Ministry of Education and Microsoft's initiative, the Innovative Teachers Competition is held exclusively for teachers across the country on an annual basis. Microsoft said this competition is designed to help motivate and recognize all teachers who actively use Information and Communication Technology (ICT) in their teaching and learning, to create effective and productive learning experiences in their classrooms on a day to day basis.
The main objective of this competition is to jumpstart the use of ICT in schools, so that children become aware of the potential of IT from a young age and also to encourage educators to adopt ICT as part and parcel of their teaching methods.
The 2008 competition is currently at the Provincial stage, where judges have gone through the entries and have even selected winners from each Province, subsequent to a rigorous screening process, spanning over several months. This year, the competition exhibited entries from all nine provinces (the Northern province being the latest addition), who took part in the competition, with several provinces such as Central, North Western, Sabaragamuwa, Southern and Uva doing extraordinarily well.
Microsoft said the next level of the competition will deal with the provincial winner's entries, now being judged at a national level, for which the National Awards ceremony will be held on January 26, 2009.
In each Province there were 10 winners selected, where they were awarded cash prizes, ICT training vouchers and certificates for their efforts. The first place winners were awarded Rs. 10,000 in cash prizes, followed by Rs. 5,000 for the second place and Rs. 3,000 for the third place. Winners from the 4th place to the 10th place were awarded Rs. 2,000.