Nilwala Shyamen Abeysekara-Somaratna spends hours looking at specimens under microscopes in laboratories. She studies genomics and bioinformatics, researching characteristics of disease-causing toxins in wheat. She didn't always want to be a scientist, though. She used to think about being a pilot in the Air Force or a doctor for the Army. She wants to make a difference in the world.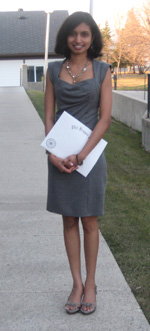 Nilwala Shyamen Abeysekara
While attending Devi Balika Vidyala, Columbo 8, one of the leading girls' schools in Sri Lanka, Nilwala took her ordinary and advance level exams to help her identify a subject stream for higher education. She discovered a fascination for science-related fields. Now, years later, she is working toward a doctorate in genomics and bioinformatics at North Dakota State University in Fargo, N.D., and she is making significant breakthroughs in her research at two laboratories with the United States Department of Agriculture.
This ambitious young Sri Lankan from Homagama worked as a temporary assistant lecturer and a demonstrator in the Department of Plant Sciences at the University of Colombo. She also was searching for opportunities to further her education when she met Priyanthi and Dissa Dissanayake, operators of Scholarships for USA, an organization that helps Sri Lankan students find excellent, affordable educational opportunities in the United States.
Priyanthi and Dissa are independent student counselors and leading recruiters for several universities in the United States. They told Nilwala about NDSU's great reputation and Fargo-Moorhead's safe community.
When she decided NDSU was the best fit, they helped her with the application process.
Nilwala was accepted to graduate school at NDSU. It wasn't long after that Justin Faris, a plant research geneticist from the Agricultural Research Service in the United States Department of Agriculture, contacted Nilwala asking her to work in his laboratory, which is located on NDSU's campus. She gladly agreed. "I thought it would be a good opportunity to get into my field of interest," she said.
"Nilwala's application was impressive," Faris said. "She had very good grades and expressed an interest in plant genomics. My research programmes is focused on gene discovery and structural and functional genomics of wheat. I felt she would be a good fit to my programme."
After arriving in the fall of 2006, Nilwala had no problem adjusting to the United States. "The very first thing that came to my mind when I saw Fargo, was that it was flat…no mountains. I was amazed to see how peaceful and serene the environment is," she said.
During her first semester, she lived in a dormitory on campus and had a meal plan. She lived in the Living Learning Center and says it was a wonderful experience. "I shared a four-bedroom apartment with three girls from the United States," Nilwala said. "The center has all the facilities you need. Since I was on a meal plan, I didn't have to cook initially, so it helped until I got used to the place."
Nilwala joined NDSU's International Friendship Family programme, which is offered by the NDSU Office of International Programmes. To promote cultural understanding, the programme brings together Fargo-Moorhead families or individuals and international students who attend NDSU. Nilwala's Friendship Family host was Margaret Khaitsa, NDSU assistant professor of veterinary and microbiological sciences.
Having a Friendship Family helped Nilwala adapt to living in the United States. "My host helped me go shopping and invited me to her place for special occasions," Nilwala said. "Then I didn't feel so homesick."
Margaret describes her relationship with Nilwala as a relationship of mutual trust. "I normally introduce her as my "daughter" from Sri Lanka. She is considered a part of the family and we try to include her in most major family get togethers and celebrations. She also has been a good role model to my 15-year-old son and 9-year-old daughter. She has taught us about Sri Lanka too." Nilwala recently got married and the ceremony was held at Margaret's house. She had been away from her husband, Theekshana Somaratna, for almost a year and a half when he came to the United States for the couple to get married on December 31, 2007. They met in Colombo and now live at University Village, an apartment complex located on NDSU's campus. Theekshana is a project consultant for his family management consultancy firm, Somaratna Consultants Pvt. Ltd. He also is working toward an MBA at NDSU.
Nilwala loves the environment at NDSU. She says it is ideal for studying without stress. "Facilities for academic and extracurricular activities are awesome," she said. NDSU has a different teaching style than universities in Sri Lanka. "Here, you get a lot of individual and group assignments, presentations, exams and reading research papers," Nilwala said. "I was used to taking exams at the end of each semester. I had to put a bit of an effort into getting used to the new style."
Despite adjustment to the teaching style, Nilwala maintains an outstanding academic record. She is a member of the Phi Kappa Phi honor society and the Plant Science Graduate Student Association.
Bioinformatics is the use of computer information technology to analyze biological data. Genomics is the study of the full set of an organism's chromosomes that contain its genetic material. "It is amazing what you can do when you have the information of the whole genome of a species, whether it is to develop a high yielding crop or finding a cure for a medical disease," she said.
Nilwala focuses her research on the genomic analysis of Stagonospora nodorum blotch (SNB) and tan spot resistance in wheat. "SNB and tan spot are two major economically important diseases of both durum and bread wheat that cause severe problems to wheat production throughout the world," she said. "Both these diseases have the ability to reduce the wheat yield drastically."
Tim Friesen, another of Nilwala's advisers, says that she fit very well into their research group and has already made a substantial impact in the area of host-pathogen interactions in wheat. "She has worked hard and is in the process of writing up her first manuscript associated with her work on the characterization of host selective toxins produced by Stagonospora nodorum, a devastating fungal pathogen of wheat," Friesen said. "She is an intelligent, hard working student and if she continues to work hard, her future looks very bright. Nilwala has the potential to have a big impact on how we view and solve problems associated with wheat diseases."
Faris agrees that Nilwala is a bright and dedicated researcher who works hard to achieve her goals. "Her research projects require knowledge from various disciplines including molecular genetics, plant pathology, biochemistry, plant breeding and statistics," he said. "She is ambitious in acquiring knowledge in these various disciplines and applies it to her work in the lab. Nilwala is maturing into a fine young scientist. There is no doubt that she has a bright future ahead of her."
Nilwala says that her parents and her teachers from Devi Balika Vidyala, Colombo 8, helped her get to where she is today. "My mom always encouraged me to do higher studies and was very supportive in every way she could be. My dad always looked at my needs and always was there to give me the strength I needed. He advised me whenever I felt down and helped me build endurance and the strength to carry out any task without quitting. My alma mater played a vital role in building my character and for the education I received."
Nilwala has found a way to make a difference in the world through her studies of plant science. Her discoveries are already impacting the economy by identifying ways for wheat to resist disease-causing toxins that reduce wheat yields. Her long-term goals are to be a good plant scientist and a lecturer. She has not decided if she will stay in the U.S. or go back to Sri Lanka after she finishes her doctorate. It depends on the job opportunities. Ideally, she will return to Sri Lanka to join a research institute or a university.
She is the daughter of Nanda and Menu Abeysekara. Nanda is a retired lieutenant colonel in the regiment of Artillery in the Sri Lankan Army. He served in the Sri Lankan Army for 37 years. Nilwala also has a younger sister, Seegiri, and a younger brother, Chinthaka. They live in Colombo.
For more information about NDSU, go to www.ndsu.edu. For more information on Scholarships for USA, go to www.scholarshipsforusa.com or e-mail mail@scholarshipsforusa.com or samamama@sltnet.lk.